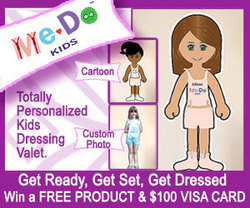 Our "Adorable Kid? Clone'em!" photo contest is a fun way to help parents, have some fun and launch our hand crafted children's dressing valet
Fredonia, NY (PRWEB) November 18, 2010
Me-Do Kids dressing valets, a new mompreneur business, is launching its new mommy product with a Children's Photo Contest where entrants have an opportunity to win a Me-Do Kids dressing valet and a $100 Visa card just in time for the holidays.
For many parents getting their children dressed is a battleground every morning, but with Me-Do Kids it doesn't have to be that way. Me-Do Kids uses a little Mary Poppins inspired magic to make the chore of getting kids dressed a snap. Me-Do Kids dressing valets provide a solution to the morning dressing drama by offering a product customized to each child.
The customized graphics and simple design of each Me-Do Kids dressing valet encourages children to want to get dressed. Each dressing valet combines a customized illustration or actual photo "clone" of the child with the convenience of a dressing valet complete with hand painted shirt/dress hangers, pants & underwear clips, sock, belt and, other accessories hooks and clips.
The Cartoon Me-Do Kids dressing valet features a variety of customized features for girls and boys, including the ability to match up your child's hair color, hairstyle, eye color and complexion. The graphic is printed on a life-sized scale with various hangers and clips that are assembled on the final graphic. The design creates a life-sized hanger system for parents to hang clothing on to teach children how to dress themselves.
The photographic option of the Picture Me-Do Kids dressing valet incorporates an actual photo of the child that is enlarged, then printed in a similar fashion as the Cartoon Me-Do. The hanger and clip system is adhered to the photo print and voila, the child has a dressing valet that looks just like them, and is ready to help them visualize themselves dressed and ready.
Jennifer Pulver, the Me-Do Kids inventor and company owner, made the dressing valet as a solution to her own children's resistance to getting dressed in the morning.
"I know I struggled when each of my three kids were toddlers and preschoolers with encouraging them to get dressed in the morning,'' Ms. Pulver said. "It seemed that someone had a melt-down almost every day and those tantrums caused us to be late for school and work. The Me-Do dressing valets was my own personal solution to engage my own kids. They had a little fun in the process and I wasn't so stressed when we left the house. My kids are a little older now and easier to get going but they still love their Me-Do and have fun with them."
The "Adorable Kid? Clone'Em!" Photo Contest launched by Me-Do Kids dressing valets invites parents to submit a "clone-worthy" photo of their child or children in hopes of capturing the Me-Do Kids "Adorable Kid" title. The photo contest will be accepting entries from Nov. 18 (9am EST) to Nov. 28 (9am EST), 2010 through Me-Do Kids Facebook page, http://www.facebook.com/MeDoKids, and through its Website, http://www.medokids.com. Only parents or legal guardians of children should submit entries. The voting period is open to the public from Dec. 8 (9:01am EST) – Dec. 15 (8am EST), 2010. Two winners will be selected. Success in the contest is bolstered by public participation although only one vote per person per day is allowed.
Visit http://www.medokids.com to:

Enter the Me-Do Kids "Adorable Kid? Clone'em!" photo contest
View customized options on the various valet types
Order a Me-Do Kids dressing valet
Contact Me-Do Kids
About Me-Do Kids
Me-Do Kids is a company specializing in handmade and unique children's products. The small business was created by Jennifer Pulver, graphic design and marketing consultant, and mother of three, as a solution to her own children's morning "dressing dramas." The business creates unique, customized dressing valets. Each of the products designed is individually handcrafted. Me-Do Kids is located in Fredonia, N.Y.
###