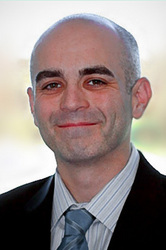 [Mike Heasley] delivers extreme value to our clients. He understands what it takes to bring a pharmaceutical product to market and knows which recommendations to make and which ones not to make.
Blue Bell, PA (PRWEB) November 18, 2010
Evolution Marketing Research announced today that Michael Heasley, M.A., M.S., has been named a partner in the firm. Heasley has been with the company since 2008 and has most recently served as Director and Chief Methodologist, overseeing all aspects of complex quantitative projects. His new title will be Partner and Director of Quantitative Research.
Heasley is the first employee to be promoted to partner since Evolution opened its doors in 2007. "Partnership status is reserved for key members of the company," noted Principal Jim Cummings. "We don't make such appointments lightly, and we do so only when we have an employee who has considerable industry experience and who performs at a consistently high level. Mike has demonstrated exemplary performance on every project, quantitative or qualitative. More importantly, he delivers extreme value to our clients. He understands what it takes to bring a pharmaceutical product to market and knows which recommendations to make and which ones not to make."
Prior to joining Evolution, Heasley worked for a large pharmaceutical company as a primary marketing researcher in support of launch products. He also has experience as an instructor of math and statistics courses. He holds master's degrees in both mathematics and applied statistics from Villanova University and a bachelor's degree in mathematics from the University of Pennsylvania. As Evolution's Chief Methodologist, Heasley has conducted both quantitative and qualitative research studies, typically concentrating on large, complex projects with an international focus. He will continue to conduct hands-on research in his new role.
"My goal as a partner is to keep promoting our capabilities," Heasley said. "We're already extremely capable in primary research, and our abilities will only grow stronger as we round out our host of offerings and find ways to build synergies between our quantitative and qualitative services."
Evolution's Qualitative Pre-Conjoint Simulation, or PreSIM, methodology is a perfect example of this synergy. Heasley developed the methodology with his brother and Evolution principal James E. Heasley, Ph. D., bringing together key elements of quantitative and qualitative research into a single, cost-effective solution. Since it was introduced, PreSIM has played a vital role in several large, global studies.
"It's this kind of innovation we like to reward," Cummings observed. "Mike clearly puts organizational and client objectives ahead of his own, and his efforts have led directly to new business. We're pleased to offer Mike a partnership position because we know he is the very best the industry has to offer."
To learn more about Evolution Marketing Research and its methodologies, call 866-486-0873 or visit http://www.evolved-mr.com.
About Evolution Marketing Research
Evolution Marketing Research is a medical marketing research firm that provides qualitative and quantitative research, consulting services, project management, advisory board monitoring and other marketing research services to pharmaceutical, biotech and medical device companies all over the world. Company principals John Taenzler, Ph.D., Jim Cummings, James Heasley, Ph.D., and Barry Cerf, Ph.D., who are backed by a seasoned team of analysts and researchers, bring their collective experience to bear on pharmaceutical projects at all phases of the product lifecycle, from opportunity and licensing assessments, to product crafting in support of phase III clinical trial design, to development of the commercial platform for developmental and in-line products.
# # #