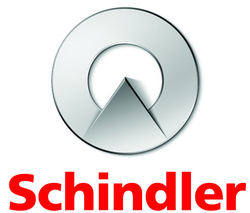 Morristown, NJ (PRWEB) November 17, 2010
Representing a fundamental shift from simply moving an elevator cab up and down, Schindler has installed its first perceptive PORT (Personal Occupant Requirement Terminal) Technology system at Humana's 12-story Waterside building in Louisville, Kentucky.
Functioning as a two-way communication interface between the occupants and Humana's environment, The PORT system learns the specific travel patterns of each associate in the building to provide them with premium elevator service. The system's interface and CPU are in constant communication with one another to provide Humana building management, its associates, and visitors the most up-to-date information through the most advanced customizable traffic management and vertical transportation tool available in the industry today.
Using a sleek touch-screen user interface similar to a high-powered iPod as its shell, The PORT computing power brings to Humana the concept of customizable applications or "app" and updates the travel patterns of each associate as they change.
"They say you can learn a lot about a person by taking a look at the apps on their iPod, "said Michael Landis, vice president, Marketing at Schindler. "Similarly, with PORT Technology, Humana management can now look at the applications built into the building and tell a lot about the travel patterns of Humana associates on the elevator system."
What makes the system special is the ease with which a building manager or owner can design applications to accommodate a wide range of needs in real time. Whether it's helping to meet new energy efficiency goals, updating security, scheduling maintenance or adapting to people with special needs, unprecedented levels of customization can be achieved.
The PORT technology interface and main computer communicate seamlessly with the building's security and access control systems so that proper admission credentials and authorizations are in place before allowing access to the elevators, providing greater safety and a higher degree of control.
Humana improved the building's elevator performance and efficiency by 250% and reduced customer wait times from 2 minutes to 30 seconds with the installation of Schindler ID® destination dispatch in 2007.
"This 12-story building moves as many tenants as some skyscrapers," said Humana
Workplace Solutions Associate Steve Evans. "We are very pleased with the efficiency of Schindler ID. Now with The PORT system, our associates get much more than just an elevator ride. They get a journey, moving and experiencing their environment with more comfort and efficiency than ever before."
"We love The PORT system," adds Evans. "Because of its innovative technology, we're using our elevators more efficiently and we're seeing real energy savings which support our ongoing sustainability efforts."
Energy Saving Features

Each PORT terminal's proximity sensor tells it when to be active and at all other times puts it into low energy consumption mode.
When the terminal screen illuminates, an ambient light sensor determines only the brightness level required, again optimizing energy usage.
The PORT Technology helps ensure elevator trips are as efficient as possible. This produces a very resourceful use of energy even during heavy traffic.
During light traffic the PORT Energy Control Option places nonessential elevators into an energy-conserving standby mode.
About Humana
Humana Inc., headquartered in Louisville, KY, is one of the nation's largest publicly traded health and supplemental benefits companies, with about 10.1 million medical members and 7 million specialty-benefit members. Humana is a full-service benefits solutions company, offering a wide array of health and supplemental benefit plans for employer groups, government programs and individuals.
Over its 49-year history, Humana has consistently seized opportunities to meet changing customer needs. Today, the company is a leader in consumer engagement, providing guidance that leads to lower costs and a better health plan experience throughout its diversified customer portfolio.
More information regarding Humana is available to investors via the Investor Relations page of the company's website at http://www.humana.com, including copies of:
Annual reports to stockholders
Securities and Exchange Commission filings
Most recent investor conference presentations
Quarterly earnings news releases
Replays of most recent earnings release conference calls
Calendar of events (includes upcoming earnings conference call dates and times, as well as planned interaction with research analysts and institutional investors)
Corporate Governance Information
About Schindler Elevator Corporation
Schindler Elevator Corporation designs, manufactures, installs, services and modernizes a broad range of elevators, escalators and moving walks for almost every building type. The company is the North American operation of the Schindler Group, headquartered in Switzerland, a leading global mobility provider, present in more than 140 countries. Schindler supports sustainable urban development with safe, reliable and ecologically sound mobility solutions. For additional information about Schindler Elevator Corporation, visit the company's Web site at http://www.us.schindler.com.
###