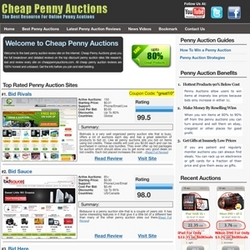 Our goal is to inform consumers and reduce the learning curve that most new participants face when they begin bidding on items.
New York (PRWEB) November 17, 2010
The recent convergence of disappointing economic data and online shopping trends has produced a groundswell of new websites offering top quality products in a penny auction competitive pricing format. Large publicly traded internet retail chains including Ebay, Amazon and others are already feeling the pinch as thrifty bargain-conscious consumers shift their attention to sites that allow them to get the same merchandise with deep discounts, thanks to the penny increase in the purchase prices creating downward pressure on the eventual sale price of every item. Now as consumers flock to the new format many are finding themselves in need of valuable guides, insider news and tip sheets to assist them in maximizing their savings. CheapPennyAuctions.com is filling that void with a robust set of auction tools and tips to take all the guess work out of learning to buy merchandise online in the penny auction format.
"While it is absolutely true that many consumers are able to get name brand gear at up to 90% discounts when compared to the retail store prices, the recent explosion of so many new penny auction portals has made it difficult for shoppers to find the best places to participate," said Sam of CheapPennyAuctions.com "Our expertise in this market segment uniquely positions us to provide consumers with the valuable free information they need about the many penny auction sites currently operating. We provide important detailed stats and reviews which enable shoppers to find the best deals among a growing wave of new adopters who are quickly becoming very auction savvy."
Anyone with access to the internet is already aware of how dire the American economic situation has become recently. The ongoing recession continues to be fueled by an avalanche of tumbling financial data. Existing home sales sank 27.2% in July, twice as much as analysts expected, plunging to their lowest levels in 15 years despite the willingness of lenders to offer 30 year mortgages with a fixed rate hovering around 4.5% while the US Dollar has sank to a 15 year low against the Japanese Yen and the price of Gold has surged to a jaw-dropping $1,230.80 per ounce. Meanwhile unemployment is holding steadily at an adjusted average of just over 9.5% nationwide with some states like Nevada and Michigan posting record numbers upward of 14% statewide. As the holiday season approaches, consumers are facing an 'underemployed rate' estimated to be as high as 20% of the entire workforce. Given that much doom and gloom, the recent surge in penny auction shoppers makes perfect sense.
"Along with information about each of the new penny auction websites, Cheap Penny Auctions also provides readers with important strategy tips and instructional tutorials that allow them to save a lot of time and money," said Sam. "Our goal is to inform consumers and reduce the learning curve that most new participants face when they begin bidding on items. Coupon codes, increment amounts, shipping costs and many other factors that might not be obvious to newcomers are essential data points for successful penny auction shoppers to master if they want to take full advantage of this exciting new way to acquire name brand merchandise."
To learn more and get free full access to the tips and strategies used by penny auction pros, please visit CheapPennyAuctions.com and use the valuable tools available to become an auction expert before you start wasting any of your precious pennies!
Sam of CheapPennyAuctions.com has been working in the Penny Auction market segment for nearly two years and the new site is being produced with a long term focus on merchant ethics.
# # #