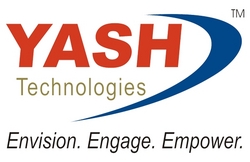 East Moline, IL (PRWEB) November 18, 2010
Employees, managers, and sales personnel improve productivity and decision making processes when companies bridge the gap between the information people need and the applications they want to use. A newly published white paper by YASH Technologies showcases how the integration of SAP and Microsoft SharePoint bridge the gap between structured information and unstructured collaborative practices and provide many benefits to an organization.
"When properly integrated, the combination produces powerful data sharing and collaboration capabilities that are easier to implement and support than solutions based on custom development and proprietary interfaces," said Sriram Jayaraman, vice president of solutions consulting group, eBusiness for YASH. "This white paper details how to derive more value and improve ROI from technology investments."
The white paper entitled, "How SharePoint Integration Can Extend and Enhance SAP," provides the following insights:

Common challenges for extending SAP
Various integration options available today
Business advantages of integrating SAP and SharePoint
How real companies have benefited by using SharePoint as the user interface and collaboration portal for SAP
Tips for what to look for in a solution
For a copy of the complimentary white paper, go to http://www.yash.com/tools/pdfPopup.php?pdfname=Sharepoint-WhitePaper.pdf&ptr=ms&ref=pr or email info(at)yash(dot)com.
About YASH Technologies
YASH Technologies focuses on customer success. As a leading technology services and outsourcing partner for medium and large global customers, we leverage technology and our flexible delivery models to drive performance and business value throughout a customer's enterprise. YASH's comprehensive service approach incorporates a holistic view of our customers that extends beyond delivery. This approach integrates enterprise solutions and services, proprietary best practice offerings, strategic application and maintenance outsourcing, as well as consulting and integration services. YASH is a SEI CMMI (Level 3) and an ISO 9001:2000 certified company with U.S. and India headquarters and regional sales and development offices spread across three continents. YASH is also part of a select group of companies that are SAP -certified global providers of application management services. For more information, please visit http://www.yash.com or email info(at)yash(dot)com.
SAP and all SAP logos are trademarks or registered trademarks of SAP AG in Germany and in several other countries.
All other product and service names mentioned are the trademarks of their respective companies.
# # #