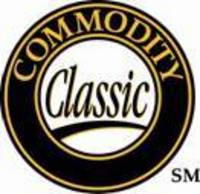 St. Louis, MO (Vocus) November 17, 2010
Soybean, corn, wheat and sorghum growers who attend the 16th Annual Commodity Classic, March 3-5 in Tampa, Fla., will help make 2011 a year of "smooth sailing." Online housing and registration opens today, Nov. 17 at noon CST. Those registering by Jan. 20 receive the Early Registration rate.
Growers who attend the 2011 Commodity Classic are sure to benefit from the value of attending a trade show with more than 800 booths representing today's leading agricultural equipment, technology, product and service companies and organizations.
"While enjoying the warm Florida sun, one can learn of new products and methods to increase the profitability of their farm," said Commodity Classic Co-Chair Charles Cannatella. "As a producer of all the commodities represented at Commodity Classic, I look forward to attending the policy development sessions. A grower can strengthen his industry by helping to set policy."
Comedian Mark Mayfield will host the General Session on March 4, interjecting his unique combination of humor and agricultural understanding as he interviews farmer-leaders about issues impacting growers. General Session attendees will also be treated to the nationally-known, motivational comedian Frank Miles, as he lights up the crowd with magic, talent and inspirational messages.
Another highlight of Commodity Classic will be the "Evening of Entertainment" on March 5 featuring a performance by the chart-topping Little River Band. Known for their popular harmonies and classic rock sounds, the Little River Band has sold over 25 million records and has 13 American Top 40 hits to its credit.
Commodity Classic is the premier convention and trade show of the American Soybean Association, National Corn Growers Association, National Sorghum Producers and National Association of Wheat Growers. The event will feature a trade show, valuable educational sessions, technology demonstrations, association banquets and important networking opportunities.
For more information about Commodity Classic or to register, please visit http://www.commodityclassic.com.
For more information contact:
Bob Callanan, ASA, (314) 754-1291
Susan Powers, NCGA, (636) 733-9004
Melissa George Kessler, NAWG, (202) 547-7800
Lindsay Kennedy, NSP, (806) 749-3478
###