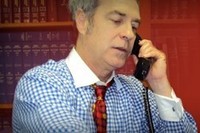 Somerville, MA (PRWEB) November 20, 2010
A client of Dussault and Zatir was traveling on a motorcycle, when the vehicle, traveling in the opposite direction made a left turn in front of him. The client was thrown from his motorcycle and sustained serious injuries to the left leg. The left tibia was shattered requiring the placement of a rod and screws along with multiple staples to close the wound. He had sought follow-up physical therapy treatments following the surgery and ultimately made a fairly well recovery. A client of Dussault and Zatir law firm was out-of-work for six (6) months following the motorcycle accident; however was able to return to work without restrictions.
With help of Dussault and Zatir attorneys the case ultimately settled out-of-court in the amount of $175,000.00.
Dussault and Zatir is a personal injury law firm in Massachusetts and Rhode Island with five convinient locations.
###