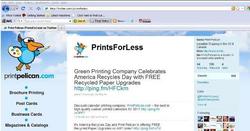 Riviera Beach, FL (Vocus) November 17, 2010
Today online discount printing company PrintPelican.com, the leader in high quality print work at discount prices, has announced that the company will focus social media efforts on the Twitter account @PrintsForLess. As of December 17th Print Pelican will be closing the Twitter identity @PrintPelican and encourages all current followers to connect with the online discount printing Pelican under their permanent Twitter ID http://www.Twitter.com/PrintsForLess.
This strategic change of Twitter identity will allow Print Pelican to combine the efforts of two accounts which until now have been run separately. For social media connections, benefits of aligning the Pelican's Twitter efforts under @PrintsForLess include increased customer service and response time from the online discount printing company as well as Print Pelican's ability to run exclusive printing specials for loyal Twitter followers.
In addition to Print Pelican's social media presence on Twitter, the company has an established Facebook Page "Print Pelican Prints For Less - Discount Printing Services" which can be found at http://www.facebook.com/PrintPelican. Join the over 250 people loving the Pelican on Facebook and post a company review to the Print Pelican Facebook wall. Like Twitter followers, PrintPelican's Facebook fans will also receive exclusive printing deals and insider information.
The online discount printing company will soon be launching additional social media profiles on Flickr, YouTube and LinkedIn and rolling out a full social media takeover. For over 25 years Print Pelican has been providing the best in online discount printing work with unparalleled customer service. The company's social media efforts will build on the Print Pelican experience customers have come to know and love.
About Print Pelican
Print Pelican is a one stop online discount printing resource that caters to the printing needs of customers in practically every industry or professional field. The company specializes in brochure printing, magazine printing, catalog printing, label printing, business card printing, post card printing, rack card printing, calendar printing, and a host of other custom printing services that help improve the efficiency of company operations and take marketing initiatives to new heights.
For more information about online discount printing company Print Pelican's discount printing services or social media initiatives visit http://www.PrintPelican.com or call 1-800-474-0461.
CONTACT INFORMATION:
Dana Krangel
Marketing Coordinator
dana(at)printpelican(dot)com
http://www.PrintPelican.com
1-800-474-0461
###