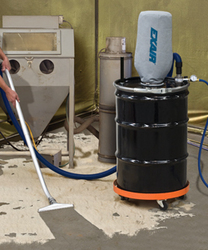 Cincinnati, OH (Vocus) November 18, 2010
EXAIR's new Heavy Duty Dry Vac™ is a rugged, industrial duty vacuum cleaner that has been engineered to vacuum high volumes of dry materials in less time than ordinary vacs. The wear resistant design is suitable for the clean-up of abrasive materials like steel shot, garnet, metal chips, and sand, yet can be used for general purpose applications.
The Heavy Duty Dry Vac is compressed air powered and attaches to a user supplied 55 or 110 gallon open-top drum. It is extremely quiet at 82 dBA (half the noise of electric vacs), making it suitable for a wide variety of applications. Surrounding air is kept clean by the 0.1 micron filter bag that traps particles when vacuuming dusty materials. There are no motors and impellers to clog or wear out. It is covered by a five year warranty.
The Heavy Duty Dry Vac System comes complete with a lever lock drum lid, shutoff valve, reusable filter bag, 10 ft (3m) polyethylene static resistant hose (1-1/2 in/38mm I.D.), hose hanger, 20 ft (6m) compressed air hose with swivel fittings, pressure gauge, and heavy duty aluminum chip wand. Deluxe systems add a drum dolly and heavy duty aluminum tools that include a two-piece double bend wand, floor tool, a small and large crevice tool, skimmer tool with detachable brush, and a 3-1/2 in (89mm) diameter dust brush with conductive bristles. Prices start at $995.
For more information contact:
EXAIR Corporation
11510 Goldcoast Dr.
Cincinnati, OH 45249-1621
Phone: (800) 903-9247
Fax: (513) 671-3363
http://www.exair.com/91/hddv.htm
###