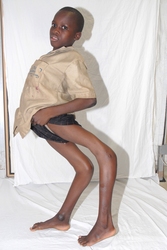 "I first saw Abel out of the corner of my eye, and my heart stopped
Togo, Africa (Vocus) November 18, 2010
On December 3, 2010, the world will take a moment to recognize the International Day of Persons with Disabilities. The United Nations observance aims to promote a better understanding of disability issues with a focus on the rights of persons with disabilities. Too often we forget that many people, from all countries and all age groups, struggle with disabilities every day. Mercy Ships uses its state-of-the-art hospital ship, the Africa Mercy, to address some of these needs through free medical care to the forgotten poor.
Abel is an exuberant eleven-year-old from Togo, West Africa. He's friendly and curious – and, like most boys his age, very active. Abel has an infectious smile that lights up a room. But for most of his young life, people did not notice his smile. The only thing they saw was his shocking disability. Abel's legs bent backward at the knees in an astonishing manner.
The problem started following an injection in his early childhood. Abel's muscles stopped growing while his bones continued to develop. Without sufficient muscular support, his legs began to bend backward at the knee, forcing his upper thighs out behind him. His parents took him to three doctors, but none of them knew how to correct his disabilty.
To make the situation even worse, Abel's physical deformity made him the target of ridicule from his classmates. The anchor in his life was his father's unwavering support and love. That love outweighed all of the stares and insults, enabling Abel to maintain a joyful attitude about life.
Dr. Frank Haydon, a volunteer surgeon from Colorado, encountered Abel at a Mercy Ships medical screening. "I first saw Abel out of the corner of my eye, and my heart stopped," says Dr. Haydon. Dr. Haydon performed six surgeries on Abel's disfigured legs. Like all Mercy Ships patients, Abel received the care free of charge.
Dr. Haydon was able to build a relationship with this bright eleven-year-old boy. "It's hard to define in words. There's an amazing connection you form on the ship with your patients. Given the language barrier, communication is through the eyes and the smiles and the trust," he explained.
Mercy Ships also provides all aspects of recuperation ... a bed to sleep in, food to eat, and therapy along the way. With his father by his side, Abel daily attended physical therapy to retrain his leg muscles to walk normally.
And his efforts were rewarded. More than four months after arriving on the Africa Mercy, Abel took his first steps with straight legs. It was soon time to go home.
Back in Abel's village, word quickly spread that the boy with the backward legs had returned. Everyone was curious about what the doctors had done.The suspense ended abruptly when a very happy Abel climbed out of the Mercy Ships vehicle – with two straight legs! There were gasps of surprise, disbelieving stares, and cheers. After a hug from his mother, Abel kicked a soccer ball for the first time since his surgeries. Click here to see Abel's amazing transformation.
Mercy Ships performs 10-month field services in developing West African countries. The hospital ship was Abel's only hope. Abel is one of thousands who suffer from lack of adaquate health care in developing nations like Togo. In fact, in Togo there is only 1 doctor for every 25,000 people.
Abel's story illustrates why Mercy Ships focuses on medical training to build capacity in poor countries. When local doctors receive advanced medical training, they will have the tools to cure more patients in the future – patients who will not have to wait for years for a Mercy Ship to visit their country.
ABOUT MERCY SHIPS: Mercy Ships uses hospital ships to deliver free, world-class health care services to those without access in the developing world. Founded in 1978 by Don and Deyon Stephens, Mercy Ships has worked in more than 70 countries providing services valued at more than $808 million, impacting more than 2.5 million direct beneficiaries. Each year Mercy Ships has over 1,200 volunteers from over 40 nations. Professionals including surgeons, dentists, nurses, health care trainers, teachers, cooks, seamen, engineers, and agriculturalists donate their time and skills to the effort. Mercy Ships seeks to become the face of love in action, bringing hope and healing to the poor. For more information click on http://www.mercyships.org
Contact: Kathy Gohmert, US Public Relations
kathy.gohmert(at)mercyships(dot)org
903-939-7019
Hi-res photos and general Mercy Ships video footage are available upon request.
###