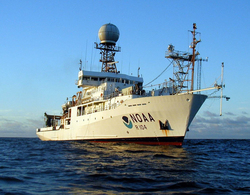 Winch monitoring is mission critical for the federally funded NOAA & UNOLS research fleet.
Seattle, WA (PRWEB) November 18, 2010
Measurement Technology NW (MTNW) announces a major award from the National Science Foundation (NSF) and the University-National Oceanographic Laboratory System (UNOLS) to upgrade winch monitoring technology across 15 federally funded research vessels. This award brings new MTNW hardware and software technology to the support of winch operations, which is mission critical to these research vessels.
UNOLS and the NSF are choosing to work with MTNW because the Line Control Instrument (LCI) monitoring and control system provides advanced technology for on-deck safety, reliability, and accuracy. "The recent change in the operating safety standards for UNOLS vessels has required a technology upgrade on every active vessel," said Tom Rezanka, Managing Director of MTNW's Line Control Instruments. "Our technology exceeds the newly-adopted standards and will both increase safety for personnel and enhance marine sensor deployments."
Rezanka explained that having technology to continuously monitor line tension trends and historical peak loads, at high sample rates, locally at the winch station, in the control room, and remotely through the PC, increases the safety factor beyond other currently available systems. Without historical logging of tension loads, winch system managers are at the mercy of visual inspections, manual/written logs and guesses about wear and tear on their vital research systems.
"Recently, these research/winch systems were called upon to make thousands of water quality sampling casts into the Gulf of Mexico looking for oil from the BP spill. Because the NSF is investing in the infrastructure necessary to support these activities, UNOLS as well as the National Oceanographic and Atmospheric Agency (NOAA) will be ready to respond to future events," said Matt Mostad, VP of Sales at MTNW. "The selection of MTNW as a primary technology provider for this fleet allows us, once again, to demonstrate the 16 years of experience we have in supporting these same vessels with winch monitoring hardware and software. For MTNW, the NSF award is an important vote of confidence in our advanced technology and our team."
University-National Oceanographic Laboratory System (UNOLS) is an organization of 61 academic institutions and national laboratories involved in oceanographic research and joined for the purpose of coordinating oceanographic ships' schedules and research facilities.
The National Science Foundation is an independent federal agency created by Congress in 1950 "to promote the progress of science; to advance the national health, prosperity, and welfare; to secure the national defense…"
Measurement Technology NW Line Control Instruments (LCI) produces a wide range of precision line control products, including the LCI-90i and LCI-80 (winch displays), WinchDAC (winch monitoring software), running line tensiometers, rig and barge mooring, load cells, and much more.
Look for MTNW at the Workboat 2010 conference in November 2010.
Call us at 206-634-1308, or send an email to lci(at)mtnw-usa(dot)com.
Measurement Technology NW / 4211 - 24th Avenue West / Seattle, WA 98199
###