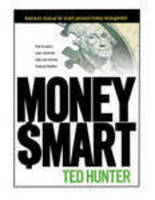 Start with a list and use the internet for comparison shopping and buying. This will help in making smarter purchases and will lead to a lot fewer trips to the malls and stores where impulse shopping is hardest to avoid.
California (Vocus) November 18, 2010
The holidays are a time of cheer and celebration but they can quickly dissolve into chaos, stress, and opportunities to overspend. The new personal finance book, Money Smart, offers tips to help consumers remember the joy of the holidays and avoid taking the regret of overspending into the New Year.
Money Smart and http://www.MoneySmartOnline.com/Spending.aspx provide a practical goal-focused approach to help readers spend their money wisely, even during the holidays. It guides them to form a plan and budget for the holidays, as well as plan for a lifetime of financial freedom. Here are a few Money Smart Holiday Tips from Hunter:
Avoid impulse buying. Start with a list and use the internet for comparison shopping and buying. This will help with making smarter purchases and will lead to fewer trips to the malls and stores where impulse shopping is hardest to avoid. Staying out of stores is especially important because every shopping trip opens the door to new temptations and unplanned extra buying. Unplanned purchases usually are ones that shouldn't have been made. So make a list, stick to it, and minimize those shopping trips.
Presents are for children. Consider not buying holiday presents for most adults. Take a look at the benefits versus the drawbacks. "If you stop exchanging these gifts you will simplify your life and save a nice chunk of change, too," states Hunter. "Talk to the people you're exchanging gifts with and see if they might prefer to stop as well. Most adults will be happy to end the obligation or agree to a gift limit of $10 or so. After all, what percent of the gifts you've ever gotten have you actually wanted and used? I think presents are for children, for your mother and father, grandmother and grandfather, wife or husband, and that you can stop there."
Think before sending Christmas cards. Only send cards with a personal message to each person. While most people just fire them out, it's not very personal, is it? Simplify life and save money by sending an e-card for free instead (do it for birthdays, too).
Start your own holiday fund. Save ahead of time. It's important to save for gifts, and especially the holidays, so there is money to cover the expenses when the time comes. Consider the gifts and expenses for each present-giving event in a year, add them up, and divide by twelve to know the monthly cost. This is the amount to put aside each month to be prepared and avoid stress.
Combining Hunter's sixty years of experience and a common sense approach, Money Smart shows readers that they are capable of managing their money better than anyone else. Presenting easy-to-use tools and a clear list of rules to follow, Money Smart teaches readers to make solid, educated decisions so they can effectively manage their money and make their dreams a reality.
Money Smart can be purchased online at http://www.MoneySmartOnline.com and Amazon.com.
About the Author
Ted Hunter is a successful business man who, thirty years ago, built a successful real estate brokerage with over 100 agents that went bust in the real estate crash of the late 80's. Learning from this experience he then entered into the stockbrokerage industry, successfully helping his clients make money and advising his clients to get out of the stock market in early 2000 before the market started to dive. In the fall of 2005 he did it again, warning all who would listen of the coming crash of the real estate market. He wrote Money Smart to share his knowledge of cycles in both the real estate and financial markets as a way to help people take control of their money and create financial freedom.
Ted is a native of the New York City area and now resides in Davis, California, with his wife Suchit, and their daughter Kat. Ted is also the proud father of three adult sons: John, Dave, and Dan.
Media Contact:
Email: connie(at)georgeacommunications(dot)com
Phone: 708-715-2079
Web: http://www.moneysmartonline.com
Review Copies and Interviews Available
###