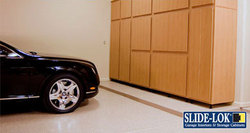 We've been providing high-quality Houston garage flooring solutions for years
Spring, TX (PRWEB) November 18, 2010
Slide-Lok of Houston, a Houston garage flooring and cabinet dealer, recently added high-quality Slide-Lok garage floor coating to its product line-up. This is welcome news for customers who have been relying on useful - but inefficient - epoxy flooring. As an authorized Slide-Lok dealer, Houston Slide-Lok will now offer cutting edge flooring solutions along with its extensive selection of Houston garage cabinets. "Many of our customers are unaware of Slide-Lok. We're excited to show them why it's a much better alternative to regular epoxy flooring," says Roberto Guiterrez, one of the managers. "We are proud to be an authorized dealer."
When it comes to treating and reinforcing concrete flooring, traditional epoxy coating has been the solution of choice for many years. Recently, though, Slide-Lok polyaspartic concrete garage flooring was developed. Houston Slide-Lok has always kept its finger on the pulse of innovative new flooring solutions, which is why it jumped at the chance to become an authorized Slide-Lok dealer. "We've been providing high-quality Houston garage flooring solutions for years," says one Houston Slide-Lok employee. "After seeing Slide-Lok in action, we knew that we had to get on board. It brings many advantages to the table that regular epoxy flooring simply doesn't."
"I'd never heard of Slide-Lok garage flooring before this," says one customer. "The people at Slide-Lok of Houston convinced me of its benefits. I'm glad I followed their advice!" Slide-Lok comes with many advantages over regular epoxy flooring. It sets in one day instead of three, it contains no VOCs, it has minimal odor and it is USDA-approved; none of those characteristics can be attributed to epoxy flooring. As a garage floor coating, Slide-Lok is advantageous because it is weather-tolerant, it bonds and strengthens concrete, it eliminates and reduces cracking and it's permanent - unlike epoxy, it doesn't have to be reapplied.
In addition to the many functional benefits of Slide-Lok, there are plenty of other perks. "Our customers love the fact that Slide-Lok comes with a limited lifetime warranty; epoxy flooring only comes with a limited one- to three-year warranty," says Roberto Guiterrez. "We strive to provide the best Houston garage cabinets and flooring solutions in the area," he continues. "We're confident that Slide-Lok is yet another way for us to do so." As the company's customers begin using Slide-Lok, they are sure to agree that it offers more viable solutions than traditional epoxy; sales are expected to be brisk.
# # #