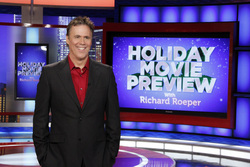 The journey they take turns this magical world of wizardry into what is essentially a really cool road movie
Albuquerque, NM (Vocus) November 18, 2010
In-laws in town and need to entertain them? Time off from work and need to entertain yourself? Remedies aplenty as REELZCHANNEL—TV About Movies® today announced Richard Roeper's 2010 Holiday Movie Preview, a half-hour special of REELZCHANNEL Spotlight premiering Saturday, November 27 at 10:30am ET/ 7:30am PT.
This holiday season includes a stellar lineup of diverse movies featuring the biggest Hollywood stars, ensuring every movie fan has a something to see in theaters.
"The journey they take turns this magical world of wizardry into what is essentially a really cool road movie," is how Roeper describes the epic adventure that is Harry Potter and the Deathly Hallows Part 1, which releases this Friday in theaters. Tune in to hear what else he has to say about the penultimate Potter movie. Speaking of movies with massive fan bases, Roeper looks at the mid-December release TRON: Legacy calling it "a surefire blockbuster with the power to captivate the whole family."
Family Fun
With families in mind, Roeper's Family Fun movies include The Chronicles of Narnia: Voyage of the Dawn Treader and Disney's Tangled. Don't forget about the 3D-animated Yogi Bear featuring the voices of Dan Aykroyd and Justin Timberlake as the picnic-crashing Yogi and Boo-Boo bears.
Girl Power
To honor the tour de force women will have in theaters this holiday season, Roeper presents his Girl Power movies, including Burlesque starring Christina Aguilera and Cher, Country Strong with Gwyneth Paltrow and Black Swan starring Mila Kunis and Natalie Portman.
Matt vs. Ben
And in the spirit of shoppers scrambling to score deals in stores, what's a little friendly competition between movie stars on the big screen? Roeper is ringside for Matt vs. Ben in light of the releases for Ben Affleck's The Company Men and Matt Damon's True Grit, which opens just two weeks after The Company Men.
English Royalty and Big Stars
Wrapping up his Holiday Movie Preview are two Oscar® contenders in The King's Speech with Colin Firth and The Tempest with none other than Russell Brand co-starring with Academy Award-winner Helen Mirren. And finally, no holiday movie preview is complete without massive star power. Roeper's Big Stars movies feature The Tourist with Johnny Depp and Angelina Jolie and The Fighter with Mark Wahlberg and Christian Bale.
About REELZCHANNEL
REELZCHANNEL—TV About Movies® is the only cable and satellite network devoted to delivering entertaining and informative programming that is all about movies, including the celebrities, fashion, music and stories behind the stories. With shows featuring movie and entertainment experts including Leonard Maltin, Richard Roeper and Sam Rubin, fans get trusted insight into movies wherever they're playing, whether in theaters or at home.
REELZCHANNEL reaches more than 50 million homes on DIRECTV channel 238, Dish Network channel 299, Verizon FiOS TV channel 233, AT&T U-verse channel 799/1799 HD and cable systems nationwide. Find REELZCHANNEL in your area by entering your zip code at http://www.reelz.com/watch. Owned by Hubbard Media Group, REELZCHANNEL is headquartered in Albuquerque, NM with an entertainment bureau in Los Angeles.
For more information, please contact the REELZCHANNEL Media Line
877- REELZTV (733-5988) / pr(at)reelz(dot)com
###