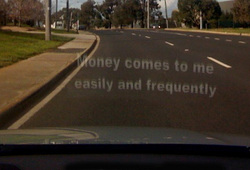 ReflectAffirm will make your affirmations stick! The work on a conscious level and also engage the powerful subconscious mind. Use it and you will achieve your goals!
Melbourne, Australia (PRWEB) November 19, 2010
With New Year's Eve just around the corner, millions of people will be making resolutions. Some goal setting resolutions may include weight loss, others may want to quit smoking or make more money. No matter what they are, sticking to those goals is often a challenge, even for the most dedicated person. That is, until now, since ReflectAffirm is giving people that much-needed edge in being able to achieve goals.
"Positive affirmations can be an extremely powerful tool, when it comes to achieving anything you want in life," explains Jurgen Mennel, creator of ReflectAffirm. "By having a positive affirmation that you consciously and sub-consciously refer back to, you will achieve those goals. It's all about the power of positive thinking."
The ReflectAffirm helps people achieve their goals because it takes their personal, positive affirmation and projects them, when they are aware of it and even when they are not. ReflectAffirm has been designed to go in one's vehicle, and be placed on the dashboard. Then, without any further action, the person's positive affirmation stays reflected onto the windscreen at all times.
Although the goal, or positive affirmation, that is being reflected onto the window is unobtrusive, it is always there, where the person can be reminded of it, through both conscious and subconscious means. Very powerful indeed!
"Personal goal setting is important, and when you use positive affirmations, it is much easier to actually reach them," adds Mennel. "The power of positive-thinking affirmations cannot be overstated. People have nothing to lose and everything to gain by letting ReflectAffirm help them reach their goals."
ReflectAffirm is available online at http://www.reflectaffirm.com, where visitors can also sign up for a free positive-affirmation e-book. To learn more about the power of positive thinking, goal setting and positive affirmations, visit ReflectAffirm's blog at http://reflectaffirm.com/blog/.
About ReflectAffirm:
ReflectAffirm, a product designed to help people achieve their goals and think positively, was started by Jurgen Mennel. The unique personal affirmation tool is used by many, in order to focus on and achieve goals. By reflecting one's personal affirmation onto the front windshield in a non-obtrusive manner, people can work toward their goals whenever they drive their car. To learn more about ReflectAffirm, visit the website at http://www.reflectaffirm.com.
# # #