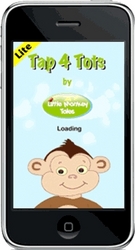 What really impressed me is that within an hour, my son knew 5 words in Chinese
Beverly Hills, CA (PRWEB) November 23, 2010
Today, Tap 4 Tots is celebrating its 5000th download.
To celebrate, the makers of this iPhone app specifically designed for kids have put it on special for one week.
Sam, who is both a father and the man behind the idea of Tap 4 Tots, said that:
"My children inspired me to come up with an app that was both fun and entertaining, but most importantly something they would learn from."
"I knew I had a great idea when we created a test version of the app, and my 6 year old son took to it like a duck to water."
"What really impressed me is that within an hour, my son knew 5 words in Chinese."
This simple gem of an application targets the tender learning ages of 6 months up to 8 years, and teaches young children the words for our facial features. Touch the mouth of the cute monkey for instance, and hear the word for "mouth".
Sam continues: "This is exactly what Tap 4 Tots is, nourishment for a growing brain, but in a fun game. Not only do your children learn quickly, but they learn in 7 different languages too!"
"Tap 4 Tots will help your children learn words in English, Greek, Cantonese, Mandarin, Italian, Arabic and Bahasa", Chris says.
Chris, who helped develop Tap 4 Tots with Sam said: "Have you ever wondered why some parents teach their children to play chess or play a musical instrument from a very young age? Because their brains are like sponges at this age, and the more they learn today, the more they know tomorrow."
Sam explains that: "It's very satisfying to be in an industry that gives parents like me the opportunity to develop such child-friendly apps, and make them available to parents around the world using a platform like the iPhone and the iPad."
Tap 4 Tots was ranked No 1 by Apple as New and Noteworthy app under the iPhone Education category
Tap 4 Tots is available in a free version and paid version from iTunes worldwide.
To get your copy, visit iTunes today and search for Tap 4 Tots or click on the links below.
Paid Version
http://itunes.apple.com/au/app/tap-4-tots/id391291409?mt=8
Free Version
http://itunes.apple.com/au/app/tap-4-tots-lite/id383311429?mt=8
# # #