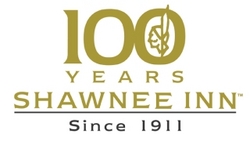 It is a privilege of a lifetime to pay tribute to one of the truly great American destinations
Shawnee on Delaware, PA (Vocus) November 18, 2010
You only get one chance in this world to turn 100, so The Shawnee Inn and Golf Resort is going to make the most of its ultimate anniversary in 2011 with a variety of special events to mark its Centennial year as the premier resort in the Pocono Mountains.
The 2011 Shawnee Centennial Celebration was announced today by owner Charles Kirkwood, who was joined at the iconic destination by members of the families of each previous owner, dating back to C.C. Worthington, who built the original hotel and golf course in 1911.
"It is a privilege of a lifetime to pay tribute to one of the truly great American destinations," said Kirkwood, Shawnee's fourth owner, who has operated the resort since 1977. "It's quite an accomplishment for a resort to entertain guests for 100 years; it says something about the resort, as well as all the terrific people who have worked here through the years. So, in honor of them, we're going to celebrate all year long."
Joining Kirkwood for the announcement of the Shawnee Inn Centennial Celebration were Reginald Worthington, great grandson of resort founder C.C. Worthington and Dixie Waring, daughter of famous entertainer and Shawnee's second owner Fred Waring.
One of the special celebrations is the Wedding Vows Renewal Weekend, June 25-26. In honor of the hundreds of couples who have held their wedding at Shawnee, a group ceremony will be held for couple to renew their vows, followed by a brunch. Also, each participating couple will be able to stay overnight for only $19.11 (in honor of the Inn's 1911 opening).
As part of the wedding day celebration, Shawnee is conducting a world-wide search for the couple married at Shawnee who have been together the longest. The special "bride and groom" that emerge by March 30, 2011 will be invited to participate in the Wedding Vow Renewal and receive a complimentary two-night stay, compliments of the resort.
Another major celebration event is the Centennial Ball on May 21, which will be a traditional gala designed to connect the early years of Shawnee with today. Guest must be in either contemporary formal attire (black-tie optional), or may choose the more festive 1911 period dress.
As part of the theme to honor the past, Birthday Dinner celebrations to commemorate each of the resort's key ownership figures will be held – honoring C.C. Worthington on Jan. 6, Fred Waring on June 9, and Charlie Kirkwood on Aug. 3. Each night, guests will select from popular dishes of each owner's era for only $19.11 (again, in honor of Shawnee's 1911 opening).
Other significant events in 2011 include the opening of the new Shawnee Museum on Jan. 5; a special Centennial Performance at the Shawnee Theater on May 20; the Shawnee Centennial book release party on May 3; the Centennial Hickory Classic golf tournament – using wood-shafted clubs – on Oct. 16; and the year-ending Centennial Winter Carnival on Dec. 31.
For more details about special events scheduled at the Shawnee Inn for the 2011 Centennial Celebration, call 800-SHAWNEE (800-742-9633), or visit ShawneeInn.com.
About The Shawnee Inn and Golf Resort
The Shawnee Inn and Golf Resort is conveniently located 70 miles from New York City, 100 miles from Philadelphia, 150 miles from Albany, N.Y. and 200 miles from Washington, D.C. Three airports – Lehigh Valley International, Wilkes-Barre/Scranton and Newark International – all are within easy distance of the property.
The Shawnee Inn and Golf Resort, rich in breathtaking views, features 80 rooms in the historic Inn, 12 rooms in the Delaware Lodge, plus six suites and two cottages in Shawnee's luxury accommodation, the Legacy Collection. Shawnee's varieties of recreational facilities make it an ideal destination for any event. Choose from Shawnee's 27-hole championship island golf course, golf lessons at the Tillinghast Golf Academy, nine-hole lighted Tillinghast Approach Course, skiing at Shawnee Mountain, mountain biking, or hiking on the scenic Appalachian Mountain trails, canoeing, rafting, fishing, kayaking, indoor pool, fitness room, tennis, professional theater, and Spa Shawnee and Salon.
Media contacts:
Jeromy Wo
Public Relations Coordinator
The Shawnee Inn and Golf Resort
570.424.4050 x1409
pr(at)shawneeinn(dot)com
Karen Moraghan
Hunter Public Relations
908.876.5100 office
908.963.6013 mobile
kmoraghan(at)hunter-pr(dot)com
###