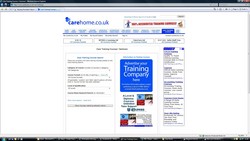 Search by Category of Course, Course Format, Level of Qualification or Keyword, with additional categories also available.
(PRWeb UK) November 19, 2010
A growing number of users to http://www.carehome.co.uk continue to find our News & Events pages of interest, particularly at such of time of important development within the care sector, but it has turned out to be an advantage to remove our Training & Seminars tab and create a completely new section - http://www.carehome.co.uk/care-training/ to the benefit of users looking to promote care knowledge and learning with access to a range of experts and training resources.
This new feature follows the success of our 'Care Jobs' and 'Care Homes For Sale'; sections that have proved easily accessible in terms of allowing users to add regular updates via their monthly Marketing Reports. These user-friendly features have been so keenly embraced by users of our site that we already have more than 2,000 care jobs displayed through easily searchable criteria, as well as over 150 care properties listed as for sale. http://www.carehome.co.uk welcomes the same enthusiasm from providers of training and seminars and, indeed, received more than 100 entries within 24 hours of the feature going live, therefore would invite other course specialists to take advantage of yet another free listing in the same way.
The News pages will continue to keep users informed of website updates, taking our capabilities seriously as the primary source of care-related information to all areas of the UK sector; it is important to us that our information is easily accessible and that users do not miss out during what will undoubtedly be a crucial decade for care providers faced with answering the issues of an ageing population. http://www.carehome.co.uk is now also signed up to both Twitter and Facebook, in case users prefer to converse through other web-based accounts, and the team continues to visit important care exhibitions such as the Care Shows and Naidex events, enabling us to enjoy meeting our website users face-to-face and discussing any particular needs they may have together with questions as to how our care information and free listings can be used to their full effect.
As ever the website continues to evolve, as does its twin sites http://www.homecare.co.uk and http://www.daynurseries.co.uk, and more updates will be posted in due course, including details of a brand new related website caredata.co.uk - similarly another extension of an already existing http://www.carehome.co.uk feature, which is scheduled to become live in December.
###