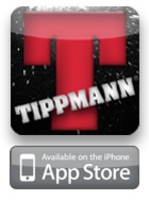 The platform permits manufacturers to create an iPhone app at no charge.
Minneapolis, MN (PRWEB) November 23, 2010
Tippmann's new app was created using a new free solution called the AutoMotionTV App Creation Platform. The platform features the entire line of products through video, images, and 360 spins. Manufacturers with a retail or distribution network are eligible for the platform.
AutoMotionTV works with the manufacturer to create an interactive app experience based on the product line. While there is no charge to the manufacturer for this service, AutoMotionTV sells a modified version of the app to dealers and distributors.
The dealer version of the app contains the same interactive experience, but adds live inventory, in app purchase options, and other dealer-specific features. The dealer version of the app is available to authorized dealers and retailers for a small monthly fee.
Increasingly manufacturers are using the platform to release an official iPhone app and provide a unique selling tool to their distribution network.
"Our goal is to provide dealers a cost-effective way to capitalize on increased mobile traffic to their sites," explained AutoMotionTV president, Ben Anderson. "We've developed a unique way to help manufacturers cost-effectively drive more sales through mobile."
"Tippmann was excited to partner with AutoMotionTV on the iPhone app project," stated Ron Goldblatt, Director of Marketing and New Product Development at Tippmann Sports. "Their thorough understanding of mobile apps has allowed us to expand our industry leading social marketing endeavors and provide our customers with the ability to review our entire product line in an application that goes far beyond a traditional online catalog. With this application we can now offer our customers a fast, fun and easy way to review and purchase our complete product line through their mobile device."
About Tippmann:
For more than 20 years, Tippmann Sports has been dedicated to quality manufacturing as well as cutting edge technology and design. The company serves the global paintball industry from its headquarters and manufacturing facility in Fort Wayne, Indiana as well as its warehouse in Brussels, Belgium. Tippmann Sports' complete line of paintball markers and related accessories can be found at paintball stores and fields as well as mass retail and sporting goods outlets throughout the world.
About AutoMotionTV
AutoMotionTV's platform is designed from the ground up to help product manufacturers and dealers capture and convert mobile device users. More information on the App Creation Platform can be found at: http://go.automotiontv.com
Media Contact:
Alexis Blaha
AutoMotionTV
612-353-4125
alexisb(at)automotion2(dot)com
# # #