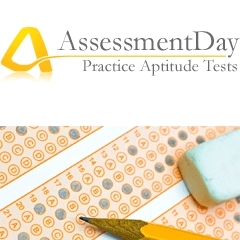 job seekers taking a psychometric test will benefit the most from this partnership
London, UK (PRWeb UK) November 19, 2010
Today AssessmentDay started selling JobTestPrep's assessment centre preparation courses. AssessmentDay and JobTestPrep both provide practice psychometric test material for job applicants who have been invited to sit a psychometric test and want to make sure they are prepared.
This new partnership makes a lot of sense and will be beneficial to job seekers since they will have access to more help and advice relating to their psychometric test, interview, group exercises and in-tray selection tests. This complimentary partnership is certainly good news for job seekers who are all trying to catch the attention of recruiters in this competitive job market.
AssessmentDay has until now specialised in providing practice psychometric aptitude tests to candidates to help them get an idea of what to expect in their real job aptitude tests. This approach has focused on the numerical reasoning test, verbal reasoning and inductive reasoning test. These aptitude tests are the most common type used by employers so job applicants would be wise to practise them before their real test.
As recruiters become more demanding in their search for the best new talent, they use more selection tests and assessment exercises. It used to be just numerical reasoning and a psychometric personality test. Now though, most graduate recruiters use some form of assessment centre to objectively rate and compare applicants.
Assessment centres can involve group exercises where a small group of applicants are asked to collaborate in a fictional project and present their findings. All the while an assessor is watching to see which candidate can work well in a team, which candidate is confident in presenting results, and they look out for candidates who come across recalcitrant or aggressive. JobTestPrep have produced an online preparation course to help candidates familiarise themselves with the group exercise, and ultimately, perform better.
Another popular JobTestPrep package now on offer through AssessmentDay is practice in-tray tests. Recruiters use in-tray tests to assess how well the candidate copes with and prioritises lots of information. This is a useful test for the real world. Candidates like to see examples of this test before they take their real one so they are confident and able to perform their best in the real exercise.
Perhaps the package most complementary to AssessmentDay's psychometric aptitude tests is JobTestPrep's psychometric personality tests. Now AssessmentDay can offer both types of psychometric test preparation to customers. The personality test is a questionnaire and recruiters ask applicants to take the test to find out about their character traits such as empathy, decisiveness, self-belief and motivation. Again, it is useful if applicants can practise a personality test before sitting their real test so that they know what to expect and so that they already have an idea of how they might respond to the real questions.
The other JobTestPrep offering now being sold on the AssessmentDay website is an interview preparation course. Almost every job application involves an interview and almost every job applicant wants to know how they can perform their best. This online course should be another product job seekers will find useful.
This partnership is good news for job seekers looking to prepare themselves for psychometric tests and is a logical partnership for the two psychometric preparation companies. For more information about this announcement please contact Oliver Savill at os(at)assessmentday(dot)co(dot)uk.
# # #