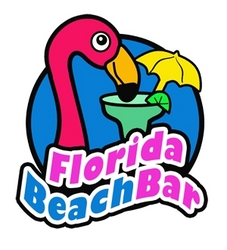 Sarasota Florida (PRWEB) November 19, 2010
Florida Beach Bar, a Sarasota Florida based company, announced today the official launch of its online Florida beach bar directory offering detailed maps, listings and reviews of the state's best beach bars. The site, FloridaBeachBar.com, is the work of John and Chris Sancin of Sarasota. These beach bar enthusiasts have visited over 200 beach bars around Florida's Gulf and Atlantic coasts since the project began in August of this year.
When the couple first arrived in Florida from Cleveland, Ohio in 2004 they spent their weekends looking for new and different Florida beach bars. In time, they came up with several criteria that identified the bars they liked best; on the beach, live music all times of the day and good food. Several years later at Shephard's in Clearwater, a bar that met all these criteria, they came up with the idea of finding all the best "beach bars" in Florida and listing them on a web site.
The two began traveling the state in August 2010 and since then have explored the entire coast line of Florida. When they weren't traveling, they were building the FloridaBeachBar.com web site. Listed beach bars are ranked based on how well they meet the criteria for an ideal beach bar. Rather than using the typical star rating, Florida Beach Bar uses pink flamingos.
"Unlike many online reviews that come from third parties, we hit the road and visited each bar that we reviewed," said John Sancin partner and cofounder of Florida Beach Bar. "There's no better way to evaluate a beach bar than being there." During the visits the couple talked with bar staff and locals who often pointed additional area bars and interesting facts about their beach bar. They found that many of the beach bars they visited served a dual role as restaurant and beach bar.
One favorite find was the Flora-Bama located on the state line. The bar is in Florida, and one of the parking lots in Alabama. This legendary bar survived two hurricanes and is a favorite of locals and tourists. On the east coast, in Jupiter, the favorite find was The Square Grouper, the location where the video for Jimmy Buffet and Alan Jackson's "5 O'clock Somewhere" song was recorded.
"It is amazing how many truly good beach bars there are in Florida," said John. "There are some bars we could have stayed at all day. Good thing we had a deadline." The Company continues to add to the list with recommendations that come in regularly from its Facebook page. The Company plans to be back on the road in January.Florida Beach Bar is a privately held Sarasota Florida based LLC. The Company offers a complete directory of Florida beach bars and advertising on its web site. The site's target audience ranges from young adults to Baby Boomers. You can visit the web site at http://www.floridabeachbar.com .
###