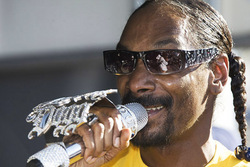 "Every Player wants to be in Hollywood at the Players Ball bumping shoulders with the stars and the best of the Players Gang. See you at the Players Ball for lights,camera...and action! Chuuuch!" -- Bishop Don Magic Juan
Hollywood, CA (PRWEB) November 19, 2010
The Players Ball 2010, one of the most extravagant entertainment events of the year, will be held for the first time on the West Coast and highlighted by a birthday bash for hip-hop artist and actor Bishop Don Magic Juan and the DJ debut of Snoop Dogg, Serious Pimp Enterprises, title sponsor of the event, announced today.
Celebrating its 33rd year and its debut in Hollywood, the Players Ball will feature an outstanding program of live music and entertainment on Saturday, December 4 at the beautiful Marbella Club, located at 6757 Hollywood Boulevard. The event is open to the public and tickets are available from Ticketmaster. Doors open at 8 pm.
"Snoop Dogg is inviting all of Hollywood's elite to party with Bishop Don Magic Juan on his birthday and celebrate the Serious Pimp swagger, attitude and lifestyle," said Serious Pimp Founder and CEO, Damian Kutzner. "This will be Snoop Dogg's first time as a DJ, so we're sure the Players Ball will be a huge success this year in the glamorous heart of Tinsel Town."
In addition to the first ever DJ dance set performed by entertainer, rapper, record producer and actor Snoop Dogg, the event will headlined by talented rapper Too $hort, whose 2010 Still Blowin' release earned critical acclaim and a spot on the Billboard charts. The program will also feature performances by hip-hop artists Mr. Fab and Glasses Malone.
The Players Ball will also feature the presentation of the much sought-after "Player of the Year Award." Presented by Serious Pimp Chairman of the Board Bishop Don Magic Juan, the Award recognizes the individual who best embodied the Player lifestyle during the past year. Winners receive a beautiful chalice Pimp Cup designed exclusively for the Award by renowned crystal design artist Debbie the Glasslady, who will join Bishop Don Magic Juan at the event to present the award. Past honorees include musician/actor Sean "Puffy" Combs, musician Lil' John, actor Owen Wilson and Snoop Dogg.
First held in 1978, past Players Ball events have featured live performances by top name hip hop and rap artists such as Snoop Dogg, Ice Cube, Lil Jon, Xzibit, Cypress Hill, Doug E Fresh, Slick Rick, E-40, DJ Quik and Digital Underground. For information on the event and sponsorships, visit http://www.playersball2010.com.
Hip hop artist, actor, fashion designer, Bishop Don Magic Juan released a collection of classic soul recordings Green is for the Money, Gold is for the Honeys in 2006 and has appeared in music videos and live shows, in movies and on television. He also appeared in the Hughes Brothers-directed documentary American Pimp.
"This is exciting because it's the first time in the 33-year history of the legendary Pimp Gang and Players Ball to move to Hollywood," said Bishop Don Magic Juan. "And this party is big! Every Player wants to be in Hollywood and it's a dream come true to be at the Players Ball bumping shoulders with the stars and the best of the best of the Players Gang. See you at the party in Hollywood for lights, camera… and action! Chuuuch!"
About Serious Pimp
Serious Pimp designs sunglasses, accessories, and clothing that blend Hip Hop style with MMA attitude. Since its inception in 1999, Serious Pimp has been a supporter of extreme sports including mixed martial arts including sponsoring a long list of fighters. Serious Pimp was founded by serial entrepreneur, business mogul and company CEO Damian Kutzner and is lead by its President Snoop Dogg and Chairman of the Board Bishop Don Magic Juan. Serious Pimp has recently signed licensing agreements with popular television personality The Situation and its sunglasses and clothing are worn by entertainers and MMA fighters such as Snoop Dogg, Tha Dogg Pound, the Bishop Don Juan, Kimo Leopoldo and Jake Shields. For information visit http://www.SeriousPimp.com.
# # #