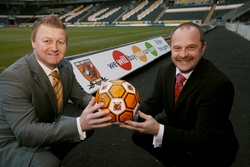 (PRWeb UK) November 19, 2010
A new sponsorship scheme will enable fans to earn money for Hull City AFC when they sell their cars, thanks to a pioneering partnership between the club and wewillbuyyourcar.com, a national car buying business set up by Hull-born former professional footballer Noel Parkinson.
The new scheme will be launched at the home tie with Ipswich Town on Saturday November 20th, and means the Tigers will benefit each time a supporter sells their car using http://www.wewillbuyyourcar.com. This money will then go towards funding the club's future development.
Linton Brown, Commercial Manager of Hull City AFC said. "This new partnership is a great way for fans of Hull City to get behind the club and help raise the funds that can drive us forward, whilst taking advantage of an excellent service and selling their cars in a hassle free way. We are always looking for new revenue streams and every supporter who uses http://www.wewillbuyyourcar.com's service will be contributing to the future growth of Hull City."
http://www.wewillbuyyourcar.com was set up by Noel Parkinson in 2005. Noel was signed from school by Sir Bobby Robson's Ipswich Town and had spells with Mansfield Town and Scunthorpe, only to see his career ended prematurely by injury when he was 26 years old and playing for Colchester.
After leaving football, Noel worked his way up to being regional managing director of a national photocopier PLC and spent time working in the motor industry, before setting up wewillbuyyourcar.com in 2005. http://www.wewillbuyyourcar.com was the UK's first car buying website and was created to take away the hassle and risk associated with selling a car.
To take advantage of the scheme, and start raising money for the Tigers, all fans need to do is visit the dedicated partnership website at http://www.wewillbuyyourcar.com/thetigers when they are next planning on selling their car. Supporters can get an online offer for their cars in minutes, and when accepted, wewillbuyyourcar will come and pick it up from their doorstep and transfer the funds instantly into the seller's account with no admin fees or hidden charges to pay.
For further information, please contact:
Craig Lazenby / Barnaby Patchett
Bluestorm
T: 01482 649343
F: 01482 646644
###