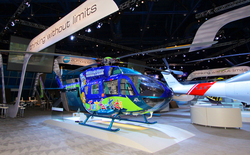 "We're ecstatic to have won this award," said Bill Dierberger, president of Skyline Exhibits. "The development of award-winning products, along with outstanding training, and strong service and support, has been my focus at Skyline for years
St. Paul, MN (PRWEB) November 22, 2010
Skyline Exhibits, the leading designer and producer of custom modular trade show exhibits and portable displays, has taken home a coveted 2010 Event Design Award in one of the industry's red-hot categories – Best Modular + Custom Environment – for a Eurocopter exhibit at the 2010 Heli-Expo in Houston, Texas.
The silver award was presented by Event Design Magazine, recognizing the worldwide exhibit industry's best-designed projects.
"We're ecstatic to have won this award," said Bill Dierberger, president of Skyline Exhibits since late August of this year. "The development of award-winning products, along with outstanding training, and strong service and support, has been my focus at Skyline for years."
Since joining Skyline in 1999, Dierberger held positions as Skyline's Director of Sales and, most recently, Vice President of Sales & Marketing. He has been an advocate of education and training. Skyline personnel, from exhibiting consultants and designers to customer service and exhibit installers, are taught best practices and trained on the latest Skyline products and services. "My goal has always been to provide world-class service throughout our entire company," said Dierberger.
New products are always key to Skyline's growth. Cross-functional teams of marketers, designers and engineers have developed a method for success and the results have been impressive. In both 2009 and 2010, Skyline was honored with Buyers Choice Awards, which recognize best new exhibiting products. Earlier this year, Skyline also won 2 of only 6 Product Design Awards at EXHIBITOR2010, the industry's largest event.
Dierberger and his teams are also credited with developing much of Skyline's current dealer network along with its regional service centers located in major North American venue cities as well as in China. Even with one of the most widespread networks in the exhibiting industry, Dierberger plans to further expand Skyline's global reach, stating that the industry continues to move toward Skyline's custom modular approach.
"I am honored to lead this company and this extraordinary team of employees and dedicated Skyline dealers," said Dierberger. "We will continue to focus on award-winning design, customer service and exhibitor education, intent on delivering the very best exhibiting experience to our clients all over the world."
Skyline Exhibits is North America's leading brand of exhibit systems. Known for high-quality manufacturing, cost-saving portability, innovative functionality, creative design and exhibitor education, Skyline has nearly 100 design centers in North America and representation in 38 countries. The company manufactures a broad range of products for trade shows and events–from banner stands and pop-up displays to large custom modular exhibits. With 20 integrated exhibit systems, state-of-the-art production of large-format graphics and options for exhibit rental and services, Skyline provides exhibit solutions for virtually any size or budget.
Follow Skyline on Twitter at Twitter.com/skylineexhibits.
Follow Skyline on Facebook at Facebook.com/pages/Saint-Paul-MN/Skyline-Exhibits/14373178623.
Subscribe to Skyline Trade Show Tips via the RSS Feed (SkylineTradeShowTips.com) get timely updated tips, news, ideas and inspiration. We update the blog more than once a month, and include more industry news that may benefit you right away.
Subscribe to Skyline on YouTube at YouTube.com/user/SkylineExhibits.
# # #