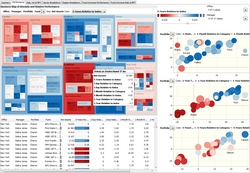 "Platforms that combine Sybase and Panopticon tools are extraordinarily flexible and help our Capital Markets clients leverage their existing infrastructure." Stuart Grant, Business Development Manager for Sybase
Stockholm, Sweden (PRWEB) November 19, 2010
Panopticon Software, the leading provider of visual data analysis software for real-time, CEP and time series data, today announced that it has signed a reseller agreement with Sybase, an SAP® company. Sybase can sell Panopticon's EX enterprise application with its products including Sybase® RAP — The Trading Edition®, the Sybase Aleri Streaming Platform, and Sybase IQ. The companies also announced a limited time special introductory offer that will allow established Sybase clients in Capital Markets to add visual data analysis capabilities to their existing RAP deployments at preferential prices.
Platforms combining Panopticon data visualization software with Sybase tools are well suited to capital markets applications like Risk, Trading & Execution, and Compliance & Fraud, requiring people to make decisions based on large, rapidly-changing data sources.
Peter Dobler, President of Sybase specialist company Dobler Consulting, said, "The combination of Panopticon's data visualizations, the Sybase Aleri Streaming Platform engine and Sybase database technology provides our clients with some truly unique capabilities. We can quickly build and deploy quite sophisticated data analytics systems that allow our clients to extract much more value out of their data and existing BI systems. Their users can access data much more easily and make more insightful — and profitable — decisions with all the relevant facts at their fingertips. We're finding that this combined platform is particularly useful in applications where making timely decisions based on large, fast-changing data sets is a crucial competitive factor."
Stuart Grant, Business Development Manager, Sybase stated, "Platforms that combine Sybase and Panopticon tools are extraordinarily flexible and help our Capital Markets clients leverage their existing infrastructure. This partnership with Panopticon is along a continuum of actions taken by Sybase to enable customers to quickly develop and deploy solutions thus enabling speedy payback."
Willem De Geer, Managing Director for Panopticon, said, "We talk to clients every day who understand the real value of combining best-of-breed CEP and database technology with a real-time data visualization system. The Sybase IQ column-oriented database and the Sybase Aleri Streaming Platform engine in particular are two of the reasons that Sybase is the preferred supplier of enterprise data handling systems for banks and trading firms around the world. By adding Panopticon, clients are able to make fully informed, insightful decisions in substantially less time than ever before and thereby maximize the value of their investments in Sybase."
About Panopticon
Panopticon information visualization technology supports rapid visual analysis of large data sets and real-time data in financial services, telecommunications, and other industries. The Panopticon Developer SDK supports Java, .NET and WPF environments and allows programmers to embed Treemaps, Heatmaps and other effective business intelligence capabilities into their own enterprise applications. Panopticon EX is a fully productized white label solution supporting rapid deployment across the enterprise to desktops and the web. Clients include information services company Thomson Reuters, financial giant JP Morgan Chase, project management firm Deltek, and telecommunications systems provider Polystar. The company has offices in New York, Boston, London and Stockholm. http://www.Panopticon.com
All trademarks used herein, whether recognized or not, are the properties of their respective companies.
# # #