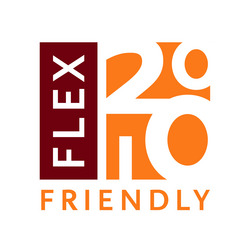 Hanover, NH (PRWEB) November 23, 2010
The Flex Pages has announced that it will join Corporate Voices for Working Families in a national campaign to engage the business community and create a broader awareness of the positive business and employee benefits of workplace flexibility.
The campaign was launched at the White House at the first-ever Forum on Workplace Flexibility in March, and it will encourage businesses to become "Business Champions" for flexibility by signing a Statement of Support for Expanding Workplace Flexibility and expressing support for flexibility principles in their own organizations and in the wider business community.
Valerie Jarrett, senior advisor and assistant to the President for intergovernmental affairs and public engagement and chair of the White House Council on Women and Girls, said at the Forum, "We are pleased that Corporate Voices for Working Families has come up with a challenge for the business community. It's a challenge in which businesses will encourage their peers to adopt smart practices that provide workplace flexibility. This will help us pave the way to the creative workplaces of the future."
Since the White House Forum, The Flex Pages has become an Outreach Partner to expand this campaign on a national level to make flexibility part of the "new normal" in the workplace.
"The Flex Pages is proud to be a part of the national workplace flexibility challenge," said Jane Seibel, CEO/Founder. "Many visionary companies around the country have demonstrated the ability of flexibility policies to improve performance and business outcomes, and we believe that this challenge can have a significant positive impact on the lives of working families and business competitiveness in America."
The increasing numbers of people working and going to school, caring for children or the elderly, or working two jobs to make ends meet have created the need for a fundamental shift in workplace culture so that people can meet the needs of both their employers and their families. Flexible workplace policies make this possible—from compressed work-weeks and job-sharing to telecommuting and working from satellite locations, flexibility policies enable workers to better balance work and life. In so doing, they lead to increased employee commitment and engagement, and ultimately, business productivity and profitability.
Corporate Voices has created the workplace flexibility logo and seal for businesses to raise awareness about the importance of workplace flexibility in helping families manage work and life in the 21st century, and to stress how critical flexibility is for business productivity and competitiveness.
"Businesses that are thinking about the future and want to be globally competitive are embracing workplace flexibility as a core leadership tool that enables people to meet work and personal responsibilities. All the business champions in the campaign believe that flexibility benefits workers at every level—from hourly to professional staff," said Donna Klein, executive chair and founder of Corporate Voices for Working Families.
When they sign the Statement of Support for Expanding Workplace Flexibility, businesses will commit to the following principles: to actively communicate the business imperative for workplace flexibility; to expand flexibility within their own organizations as a tool to advance business results; to support managers in strengthening skills for managing flexibility; and to build workplaces in which flexibility is broadly and equitably implemented and available to employees at every level.
For more information and for weekly updates on the Workplace Flexibility Campaign, please visit: http://www.corporatevoices.org/our-work/flexcampaign.
About The Flex Pages:
The Flex Pages and third-party certification program helps businesses promote their flexible work options to a range of stakeholders. Experts in the flexible workspace, Flex-Friendly founders combine their decades of experience advising employers and employees about work/life and how to achieve workplace success. The rolling application process is simple and can be done online. To learn more about the program, to nominate an employer, or to apply to become certified and listed in The Flex Pages log on at: http://www.theflexpages.com or contact us at 1-603-359-1841.
About Corporate Voices for Working Families
Corporate Voices for Working Families is the leading national business membership organization representing the private sector on public and corporate policy issues involving working families. A nonprofit, nonpartisan organization, we improve the lives of working families by developing and advancing innovative policies that reflect collaboration among the private sector, government and other stakeholders. To create bipartisan support for issues affecting working families, we facilitate research in areas spotlighting the intersecting interests of business, community and families: workforce readiness, family economic stability, flexibility in the workplace, and work and family balance.
# # #