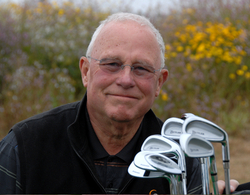 "Miura Golf Clubs are the only golf club brand that I carry. I do not compete with retailers, sell off-the-shelf clubs or sell knockoffs. I fit and build custom golf clubs. I have people coming from all over the world to get a set of Miura irons.' "
Half Moon Bay, CA (PRWEB) November 22, 2010
David Butler is a retired Chief Engineer from Chrysler Corporation Europe has become one of the world's foremost international custom clubfitters and bespoke club builders. Butler's Fitting Studio features the innovative TrackMan Launch Monitor, and the True Temper Shaft Lab.
Butler, also known as "Doctor Grip," is featured on Miura Golf's miuragolf.com website. Information about Butler and photographs of his two San Francisco Bay area custom Miura Golf clubfitting and clubmaking facilitites in Princeton by the Sea, near San Francisco, can be accessed by clicking on the "Find Dealer" link at the top of the homepage.
"We are proud of our strong stable of dealers and the way they all promote Miura product, and this is a chance to recognize the guys who are doing a great job for us," Holowaty says. "David Butler not only personifies the kind of clubfitter Miura Golf is proud to have custom-fitting and building our clubs, but he took steps to sell only Miura product, which shows his commitment to Miura and the quality of our brand."
"The end users have a real thirst for knowledge for our product, as well as for our fitters," Holowaty says. "Featuring a dealer on our website provides a look inside David's shop and once people who might be reluctant to go through a custom-fitting session see what his shop looks like, they might say, 'Hey, the fitting process doesn't look very intimidating.' We'd love to use our website to drive people to these dealers."
Butler's typical custom club fitting session lasts two or three-sometimes up to five-hours. During the fitting process, golfers experience and learn how golf shafts bend more than they realize, in turn affecting their performance. For precise fitting, Butler utilizes True Temper's computerized Shaft Lab. This technology analyzes every point in the swing-where the club flexes, twists, droops and kicks. For those who can't come to his fitting studio, he has implemented a on-line service which includes a lengthy custom fitting conversation to get the correct requirements
Butler has golfers try a number of the latest Miura Golf clubheads while hitting golf balls through the TrackMan launch monitor, then takes the data and builds a custom set with very tight tolerances-including the golfer's perfect shaft, length, swing weight, kick point, lofts, lie angles and grip-to ensure optimum performance and feel. A set of irons use only the True Temper's M80 and Tour Concept shafts, the best shafts made by True Temper. Butler only uses Diamana Professional shafts in his woods. And, Iomic grips.
"My product is very unique, as Miura products are not found in golf retail stores," Butler says. "Miura Golf Clubs are the only golf club brand that I carry. I do not compete with retailers, sell off-the-shelf clubs or sell knockoffs. I manufacture, fit and build the golf clubs. I even have people coming from all over the world to get the 'Miura irons.' "
Butler's engineering background is quite eclectic, having served in various capacities at four different companies-including 15 years as a chief engineer at Chrysler Corporation, with stints in Colombia, England and Detroit. He also founded his own Quality Improvement Process Company in San Jose, California. During his professional career he worked on the first prototype nuclear reactor in the United States, flew airplanes and was an AA Fuel National Drag Racing champion.
Upon his retirement, Butler-whose passion the past 50 years has been golf-became a Webmaster, shoveled snow in Ohio for four years, then moved back to California, buying a home at Half Moon Bay. He took a minimum-wage job at a local golf store to learn the retail business, started his own business (Doctor Grip LLC) out of the back of his station wagon, turned his garage into a regripping station, outgrew that space and rented a shop on the main drag in Half Moon Bay. When he outgrew that, Butler moved to a driving range in Half Moon Bay, attended several advanced golf theory classes, became partners with Mizuno, Diamana, True Temper and GolfWorks before choosing to exclusively build and sell Miura Golf clubs.
"The fact David sells only Miura product shows how passionate he is about us," Holowaty says. "With our dealers, the old rules that based success solely on sales or purchases don't necessarily apply with us. We want those like David who are passionate about the product, and these guys all are. If we're able to let them feel what's it's like to be part of the Miura family they'll appreciate us as much as we appreciate them."
Miura Golf's corporate office is located in Vancouver, British Columbia and Miura Golf clubs are sold at the finest custom-fitting shops in North America. The Miura brand is marketed exclusively by Miura Golf Inc., in the United States and North America. More information on Miura products can be found at http://www.miuragolf.com.
###