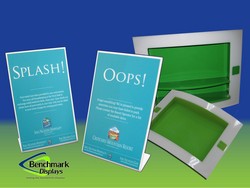 Hospitality industry leaders Marriott, Hilton, Hyatt, Holiday Inn and Shell Vacations Hospitality had Benchmark produce signage and displays for use in their properties worldwide
Palm Desert, CA (Vocus) November 19, 2010
Product and company branding is paramount to customer recognition, retention and longevity. Successful companies know that and customers appreciate it. Recently the hospitality industry turned to Benchmark Displays, Palm Desert, California for exciting and new point of purchase and customer service displays.
"Hospitality industry leaders Marriott, Hilton, Hyatt, Holiday Inn and Shell Vacations Hospitality had Benchmark produce signage and displays for use in their properties worldwide".
Shell Vacations working through Richards Graphic Communications turned to Benchmark for unique informational signs used in guest rooms. Busy travelers often forget important items and toiletries. Shell Vacations lets guests know that they will help with the OOPS! of traveling and forgotten items. Additionally Shell Vacations knows how guests love big dry towels to relax poolside. With the help of a small SPLASH sign in the guest's room upon arrival, guests easily find beach and pool towels and know how to get fresh towels when desired. Shell has experienced fantastic customer compliments for going an extra mile to make guests stays more relaxed and enjoyable.
"Benchmark Displays' ability to produce customized signage and displays quickly and affordably continues to earn them recognition as a leader" in JIT productivity and customer service. Such was the case when Marriott Hotels recently needed a custom brochure holder, to be used at Concierge desks and information points throughout properties, Benchmark produced several thousand one-of-a-kind multi-pocket brochure holders with Marriott branding.
Holiday Inn's of America has custom Amenity Trays for use in guest bathrooms and on vanities. Color matching brand logo's is an easy process in acrylic molding and fabrication. Holiday Inn has put more than 6000 new cosmetic and amenity trays in their guest rooms nationwide. Accordingly, guests have favored the new feature and housekeeping staffs say it helps keep items organized.
"Benchmark provides a large array of stock acrylic displays that often meet client's needs who are in a rush." Stock items can be quickly screen printed with company logos or other marketing information. Hilton Hotels recently needed specialized ad frames that could be mounted on walls and hung on glass doorways. Working with the outstanding customer service team at Benchmark, the Hilton marketing team was able to keep guests informed of special events on properties.
###