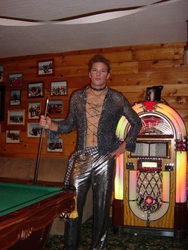 "I couldn't be happier to be part of Moosejaw. Their culture and values are exactly aligned with what I'm all about." Said Lewis.
Madison Heights, MI (PRWEB) November 20, 2010
Moosejaw, the Michigan based multi-channel retailer specializing in outdoor apparel and gear, recently welcomed new VP of Technology, Jerry Lewis, to the company. Lewis was employed most recently with CrossView, a provider of cross-channel commerce solutions, where he worked closely with Moosejaw on projects to improve customers' multi-channel shopping experiences.
"It was a very easy transition and completely logical move for Jerry to join the Moosejaw team. We couldn't be happier to have acquired such a talented individual," said Harvey Kanter, CEO of Moosejaw.
Lewis' resume includes an undergraduate degree from Stanford and an MBA from Arizona State. He began his impressive career consulting for Web Emporium in 1998 where he was awarded IBM's Beacon Award for excellence in WebSphere Commerce. In 2002, Lewis moved to Telecom Asset Management as their SVP of Technology. He then joined CrossView in 2006 where he was the VP of ProAAMS Managed Services. When Moosejaw came to CrossView in 2007 for a new multi-channel retail system, Lewis headed up the project and became extremely familiar with the Moosejaw brand, their nonsensical marketing tactics, and exciting IT innovations. When Moosejaw started a search for a new leader of IT, they knew that Lewis would be a perfect fit.
"It's very exciting to be part of Moosejaw. Their culture and values are exactly aligned with what I'm all about. I moved with my wife and two beautiful daughters from Napa Valley to metro Detroit and are thrilled about this next chapter. I look forward to using my knowledge and diverse background to help develop and grow Moosejaw's technology department," said Lewis.
Moosejaw is very excited to add this experienced and innovative new member to their IT team. With Lewis at the helm of the department, Moosejaw expects to continue to be at the forefront of technology in online retail.
About Moosejaw:
Moosejaw offers products from leading outdoor manufacturers including The North Face, Arc'teryx, Patagonia, Mountain Hardwear, and Black Diamond as well as under its own Moosejaw brand. The company serves a diverse customer base including serious outdoor enthusiasts, active individuals pursuing an outdoor lifestyle, and high school and college students who are passionate about the Moosejaw brand.
-Media Contact: Sarah Rewold, Moosejaw Public Relations, 248-246-4000, marketing(at)moosejaw(dot)com
# # #