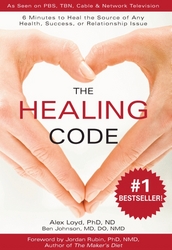 Healing the Issues of the Heart.
Phoenix, AZ (PRWEB) November 19, 2010 —
Intermedia Publishing Group invites you to join Dr. Alex Loyd, author of the #1 Bestselling book The Healing Code, for a weekend of events in the Phoenix area from December 4th-6th.
On Saturday, December 4th, Dr. Loyd will be teaching a seminar at Gateway Bible College in Phoenix from 10-4 p.m. He will be speaking on the topic of "Healing the Issues of the Heart." Following the seminar, a book party with the author will be held at Lil Deemos restaurant located at 5830 W. Thunderbird Rd. in Glendale, AZ from 6-8 p.m.
On Sunday, December 5th, Dr. Loyd will be speaking at both the 8:30 a.m. and 10:30 a.m. services at Desert Rose Community Church in Phoenix. And then in the afternoon he will be doing a book signing at the Borders Bookstore in Glendale, AZ from 2-4 p.m.
To wrap up the weekend, on Monday, December 6th, there will be a breakfast with the author at the Chick-fil-A restaurant located at 16657 N. 83rd Ave. in Peoria, AZ.
In 2001, Dr. Alex Loyd discovered how to activate a physical function built into the body that consistently and predictably removes this source so that the neuro-immune system takes over its job of healing whatever is wrong in the body. His findings were validated by tests and by the thousands of people from all over the world who have used The Healing Codes system to heal virtually any physical, emotional, or relational issue, as well as realize breakthroughs in success.
The Healing Code will be your "healing kit for life"—to heal the issues you know about, and the ones you don't.
If you would like to book Dr. Alex Loyd for a speaking engagement, contact Larry Davis at (623) 206-7144.
###