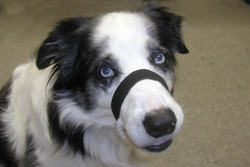 barking equals the Face Wrap/time out.
Huntington, Indiana (PRWEB) November 20, 2010
The Calming Face Wrap (tm) is a gentle, non-pharmacological way to lessen/end anxious, constant barking. It's made by Animals Plus, LLC, manufacturers of The Anxiety Wrap(tm); the product that invented the category of Pressure Wraps in the pet industry in 2001.
The Calming Face Wrap is an elastic band that uses the techniques of Maintained Pressure and Acupressure to calm dogs. It was patented by a 25-year professional dog trainer, Susan Sharpe, APDT, CPDT-KA, owner of Animals Plus, LLC, and co-owner of Canine Companion dog training center. It helps reduce and even end unwanted barking by affecting the sensory receptors which are especially prevalent on the dog's muzzle area. The Calming Face Wrap also helps lessen/end destructive digging and scratching. It's often used in conjunction with The Anxiety Wrap for even more anxiety relief. Pet owners also find it helpful in preparing a dog for wearing any brand of head halter.
Holiday visitors can exacerbate a dog's anxiety level and result in an increase in unwanted barking. Susan suggests pet owners have a plan in advance and offers these training tips to help owners and their dogs get through the upcoming season more calmly.
Susan Sharpe's Training Tips
Step 1: Plan ahead. Be prepared for his barking and know what you're going to do ahead of time. Place the Face Wrap where it's easily and quickly accessible and have tasty treats ready. Get toys that you can stuff with food and pre-stuff them. Use calm and relaxed body language and voice.
Step 2: Have a "time-out" room. Use the dog's crate or a room that will separate him from the distraction.
Step 3: Use the Calming Face Wrap. At the sign of your dog's trigger (i.e., visitor) and the first bark, say "enough" one time only. With the second bark, immediately place the Calming Face Wrap on the dog and offer tasty treats.
Step 4: Three Strikes, You're Out. If your dog barks a third time, place him in his crate or special room for a time-out. This should last 30-60 seconds or until he has quieted down. If he has pawed the Calming Face Wrap off, reapply it.
Step 5: Reward The Behavior You Want. Allow your dog to join you immediately after quieting and give him a pre-stuffed toy to help redirect his attention. Remove the Calming Face Wrap once your dog is calm and quiet.
Step 6: Reinforce. Repeat this as often as necessary until the dog learns that "barking equals the Face Wrap/time out." When the trigger (visitor) is no longer present, remove all food-stuffed toys. They are only to be used when the trigger is present and your dog is quiet.
The Calming Face Wrap can be used in any situation, in or outside of the home. Barb Gadola, CPDT-KA, a dog trainer from Distinctive Dog Training, LLC, tried the Calming Face Wrap on her seven-month-old dog, Pip, at a recent workshop. "Last weekend was our Karen Pryor Academy workshop where Pip had to remain in her pen for a good part of the day. The last time we attended the workshop, Pip barked off and on during the day." At this workshop, Barb used the Calming Face Wrap with Pip and explains, "During our workshop sessions when the dogs were crated, I alternated having her wear it and go without it. There was a definite difference when she had it on - she was calm and lay down during the sessions. When she wasn't wearing it, she was sitting up, staring at me and barking."
The Calming Face Wrap is manufactured by the makers of the Anxiety Wrap that has been featured on NBC's "Today Show," Womens Day magazine, The Boston Globe, the World-Herald, and has received positive reviews in major trade magazines such as Whole Dog Journal, Animal Wellness, Fido Friendly, and The Bark. Animals Plus, LLC, invented the category of Pressure Wraps in 2001 and The Anxiety Wrap is still the only patented Pressure Wrap in the pet industry category. The Calming Face Wrap is available at http://www.anxietywrap.com, 1-877-652-1266, and is sold through catalogs and stand-alone pet stores across the United States. The Anxiety Wrap is on Facebook, Twitter and Blogspot: http://www.anxietywrapsays.blogspot.com/ .
# # #