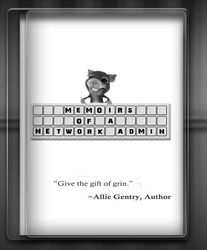 Allie Gentry stated "giving to others is at the heart of what helps us thrive in the face of great adversity, providing unexpected enjoyment within our lives. In life, unconditional giving of oneself will uncover unexpected magic.
Minneapolis, MN (PRWEB) November 30, 2010
Memoirs of a Network Admin is putting smiles on the faces of techies and luddites alike. It is the definitive guide to the soft side of managing complex situations in network administration and life. Author Allie Gentry takes you on a journey unlike any other you have likely experienced.
Network administrators who thrive on digging deep down into life's challenges will find the journey resonating and exhilarating. It's a universal journey in which even non-technical readers discover commonality and a shared path alongside computer geeks.
In this singular work author Allie Gentry hits at the heart of what helps some of us thrive in the face of great adversity – the ability to find Easter Eggs. In coding and in life we often find magic. "Whether embroiled in a complex network architecture project or in a battle with insurgents in a remote mountain in Afghanistan, the ability to find Easter eggs, to see the higher good and positive side of life, is a universal gift of the optimist and survivor," says Allie Gentry. As part of the publication of her first book, Allie has a hidden Easter Egg within her book. The first person to email Allie with the correct answer wins $200 Amazon gift card. Good luck because it is not easy to identify. You can buy the book at Lulu.com for just $9.99.
About the Author:
Allie Gentry is an IT executive and social media maven who has developed award-winning business intelligence software and, for many years, ran a leading enterprise business intelligence software company she created. Currently, Allie is an IT executive consultant and provides care for her 2 year old granddaughter Annabel as her daughter and son-in-law serve the Army in Afganistan for the next year. Allie's daughter, Sgt. Ferniza told her a month ago "everyone loves the Oreo cookies you are sending, its like gold out here." Sgt. Ferniza stated "it brings a smile and a moment of being home with your family." Allie has started an Oreo Cookie drive to send a smile to the troops at Christmas. All the profits from the sale of her book and revenue from her online bookstore http://www.tuttibooks.com, will be used to buy Oreo cookies for the troops.
For further information, please contact:
Zack English
zack.english(at)tuttibooks(dot)com
###