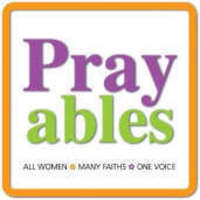 "I am spiritual, I am religious, I am not your typical holy roller. I am a woman who knows that I can pray anywhere, any time and in any way."
Deerfield, IL (PRWEB) November 19, 2010
Prayables.com, created by Susan Diamond, is a web place where women of all faiths can come and unite in a mutual daily occurrence – prayer. Prayables has you covered no matter what religion, color, race, creed, tribe, or nationality. Prayables.com is in the business of uniting and focusing on the common qualities that women share.
The website is tailored for women, but is available to the general public for participation. Prayables.com has formulated a daily prayer messaging service where women around the world who have a desire to receive daily inspirations can do so just by signing up with their email address. As well, those in need of prayer can post those needs on Community Prayer Board, share inspirational stores and even upload videos. The website offers gifts and merchandise for those who support the project and would like to give something motivational to a friend or family member.
Prayables.com has informative blogs from women of all backgrounds. Prayer and interfaith is very controversial in these days and times. When Ms. Diamond was asked what her creative passion was behind creating this site this was her response ""Prior to starting Prayables, I was able to bring my skill set to the non-profit world where I worked for both Jewish and Christian advocacy groups. I discovered the language of prayer may be slightly different, but we are mostly praying for the same things. I experimented with new ways to pray in a multi-faith setting and found it was easy to do and tremendously rewarding." The website has "inclusive" written all over it. Many people find the website interesting because of its positive messages, humor, resources and educational content.
The website has an outreach to social networking on Facebook and Twitter as well as a radio show on blogtalkradio.com/prayables where the ladies of the Prayables team discuss prayer in school, prayer in books, prayer in weight loss, prayer in relationships and much, much more. Prayer is something that has been around since the beginning of time and should not be in question or up for debate. Prayables has had its naysayers citing that this is a Judeo-Christian society and not everyone is tolerant of other religions. "I am spiritual, I am religious, I am not your typical holy roller. I am a woman who knows that I can pray anywhere, any time and in any way. Yet, when I pray with words that are expressive and beautiful, I find my sacred conversations are more meaningful and I am closer to my higher power," says Susan Diamond to those who are looking to find fault with prayer and unity.
A book by the women of Prayables is being released, Personal Peace,Prayers for Women of All Faiths, and will be available on amazon.com. The book includes prayers for every need and occasion and can be read daily for reflection.
For more information on Prayables.com or to book Susan Diamond for interviews or speaking engagements, please contact Susan Diamond at susan(dot)diamond(at)prayables(dot)com – 847-945-2850.
###