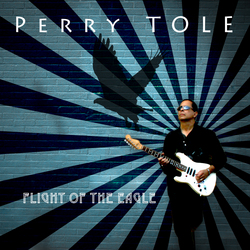 On Flight of the Eagle Tole demonstrates the full range of his compositional skills and his devotion to melody. The CD showcases his considerable abilities as a guitarist and composer. –- Gerald Belnavis, music reviewer for the Fort Lauderdale Examiner
Indianapolis, IN (PRWEB) November 22, 2010
Perry Tole takes listeners through a lover's rock wonderland on his debut studio album Flight of the Eagle, set for digital and physical release on November 22, 2010. The album features 15 visionary tracks that pulsate with his Caribbean culture's energy and passion. While some of his songs fit into the smooth reggae mold, many of his compositions escape convention, flavored with progressive‐rock energy that gives his sound, as he calls it, "Danceability."
Growing up in Jamaica, Perry's first musical influences came from the reggae, R&B and country tunes streaming from the jukebox at his mother's restaurant. At the age of 16, inspired by Jimi Hendrix and Cat Stevens, Perry picked up the guitar and later entered the Jamaica School of Music, where he became part of the noted Jamaican reggae/rock fusion band Native. Native released two major albums under Arista (England) and RCA (LA) and a third under independent record label Jamaica Records (NY). The bands seminal album Black Tracks received critical acclaim.
Perry Tole signed to Simple Life Soul in 2010 as a solo instrumentalist and will release his debut album under the same label. The project is currently in phase one of radio promotions, with phase two starting in January, and phase three in March. The title track "Flight of the Eagle" and epic ballad "Don't Walk Away" are currently in AAA radio rotation in the United States. A promotional tour through the US will launch in Spring 2011.
Find Perry online at http://www.SimpleLifeSoul.com and on Twitter @PerryTole.
For more information, album requests for reviews, or to set up an interview, please contact
Kareem Lee, 317‐501‐0306, kareem(at)simpleliferecords(dot)net.
###