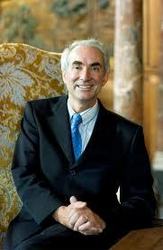 Sometimes the surest road to world peace is bridging continents by culture. What better way than offering a children's book that fosters values of kindness to all creatures through multiple languages and universal images? asks author Susan Schaefer.
(PRWEB) November 19, 2010
From America's Cradle of Liberty to Europe's: The Maastricht Dutch Connection
What do the Liberty Bell, the Twin Cities of Minnesota, the Treaty of Maastricht and three, four-footed furry felines have in common? The answer: former Philadelphia and Twin Cities business and community leader, and self-proclaimed global citizen, Susan Hermse Schaefer, whose just released bilingual illustrated book, The Adventures of Yin & Yang: Snoepje & the Pizza Box, has won the hearts of her third home, Maastricht, the Netherlands, bringing her from one cradle of liberty to another.
The book, a venture with collaborator, long-time friend, and Minnesotan-based illustrator, Michael Bower Putman, is set in Minnesota, populated with a Dutch husband, two charming middle aged cats, one quirky kitten, and a wife who, let's say… resembles its author. Translation newcomer, Juliëtte van der Aa, a resident of Amsterdam, charmingly rendered the English to Dutch.
In mid-November the book, which is the first of an intended twelve small volumes, will be introduced to the Dutch public in her third home, Maastricht, host of the Treaty of Maastricht.
The Treaty of Maastricht, non-European audiences might ask? Yes, Maastricht is the southernmost major Dutch city, sharing borders with Belgium and Germany, where in 1991 perhaps the best known and most controversial of the European treaties was signed, officially known as the Treaty of the European Union. With this treaty the European Union, or EU, came into existence, which might qualify Maastricht as modern Europe's "Cradle of Liberty".
And, it was in Maastricht that Schaefer met and came to admire, Gerd Leers, who was then the city's mayor.
Mayor Leers stepped down from that post due to a political conflict of interest, but Schaefer, along with the majority of Maastricht's citizens, continued to support and respect this political leader. "I watched with great admiration how Mr. Leers ran the city, and then handled himself during a time of crisis. I offered my respect and support throughout," admits Schaefer.
In October 2010 a new cabinet position was created in the Dutch government, and Mr. Leers was appointed as Minister of Immigration, a position with significant weight and profile, not to mention difficulty. "I am delighted that Mr. Leers will return to his beloved city to jointly read with me a marvelously illustrated children's book dedicated to my late husband, Martijn Hermse, a Maastricht citizen. This book, written in English and Dutch and presented at the Dutch holiday season of Sinterklaas is my gift to my second country, the Netherlands and Maastricht, the city I adore," says Schaefer.
A debut and reading in a bookstore 'made in heaven'
Thus, on November 21, 2010, the Maastricht branch of the prestigious Dutch national book chain, Selexyz, (comparable to Barnes & Noble) has invited Schaefer to present The Adventures of Yin & Yang: Snoepje & the Pizza Box to Dutch audiences for its debut, and Minister Leers will read the Dutch text.
Selexyz Dominicanen, as this Maastricht branch of the book chain is known, has been named "the fairest bookstore in the world," by the UK's esteemed The Guardian. This 'store' must be seen to be believed, housed as it is in a 13th century former friary, which has been restored with breathtaking care and creativity.
"Having Selexyz choose this book is an tribute in itself," states Schaefer. "Furthermore, being asked to present the book for its Dutch debut, with all images beamed on a large screen for the children to see, is a dream. Most meaningful, is that I have been honored to do so in Maastricht, the hometown of my late husband, Martijn, who inspired this book and my life."
The book presentation will consist of a reading in both languages and a book signing. Guido Wevers, head of Maastricht's Cultural Capital initiative and the city's prestigious Vrijthof Theatre, will introduce the presentation.
###