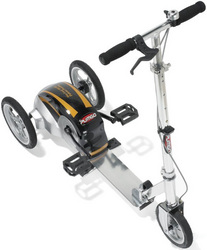 Atlanta, GA (PRWEB) November 20, 2010
Is there any toy so fun that it is attractive to you and your kids and encourages physical exercise without your pushing? Recently an amazing new toy was reported by USA Today, CBS, Fox, and NBC News as a great new ride-on toy. It is the Pumgo Scooter, a pedal scooter with ingenious design and quality construction. Users describe the feeling of riding on it as "surfing on land" with the same benefits as if riding a "stairmaster on wheels." Steve Johnson and his 8-year-old son, Walter, like the Pumgo Scooter so much, every people turn their heads when they ride Pumgo Scooter in their neighborhood. "You need to ride it to understand why those TV hosts enjoyed riding this toy on the shows. These days very few toys both parents and kids would like to play together," added Mr. Johnson.
On Toys R Us online store, customers gave the Pumgo Scooter a five-star rating. BJ from New York wrote: "I bought this for my 9-year old daughter. She very much enjoys riding it and so do the neighborhood kids. She definitely turns heads as she is cruising our block. Even the adults do a double-take as they take in this ingenious product.…"
Land Surf Inc., the Atlanta based company that invented the Pumgo Scooter, also recently invented a new concept bike. Dashbike looks like a regular bike but performs beyond imagination. Users can ride Dashbike with multiple unique pedaling motions. Also, users can transfer the Dashbike into exercise equipment for legs and arms. Dashbike is a compact family gym and a bike to ride for enhanced fitness.
The company is going to give away 20 new product samples to lucky parents who apply online. All you need to do is send the following simple information by email to win the free gift valued at $200-300. The lucky draw will take place on 11/30/2010 and 12/18/2010.
Step 1: Visit http://www.PUMGO.com and http://www.DASHBIKE.com to decide which product you want.
Step 2: Email to info(at)PUMGO(dot)com for free Pumgo Scooter, or email to info(at)DASHBIKE(dot)com for free Dashbike with following information:
1. Email title: 2010 Free Sample
2. Your last 4 digit phone number (using for gift draw): XXXX
3. Age of the person as the main user:
4. Your shipping address:
Customers want to purchase Pumgo Scooter or Dashbike online can use the coupon code 68006 at http://www.pumgo.com before 12/31/2010.
###