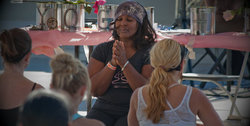 Windsor, Ontario (PRWEB) November 21, 2010
Dianne Bondy, owner of Eastside Yoga Studio in Windsor, has received her Anusara Yoga-inspired certification and added Anusara Yoga, a form of yoga derived from the Hatha Yoga school, to her studio's class repertoire.
One of the world's most highly respected schools of Hatha Yoga today and practiced in 70 countries, Anusara Yoga's training is rigorous and intense. There are less than 500 fully certified Anusara teachers worldwide, and less than 1,300 Anusara Inspired instructors.
Bondy is one of less than 40 Anusara Inspired Teachers in Ontario and the only one in Windsor Ontario.
Bondy's inspiring journey from an overweight and unhappy 30-year-old to a svelte, fit and healthy 40-year-old mother of two has been chronicled in Oxygen and Fitness Magazines. She has poured her knowledge and success into inspirational and instructional classes for other women battling with weight gain and stress. But over the years, Bondy has wrestled with a nagging dissatisfaction with her own fitness regimen. No matter how healthy she became, how successful her approach to fitness grew, something always seemed to be missing. With Anusara Yoga, she says she has found that missing element and has come full circle.
Back in 2000, then a newly married accountant, Bondy tipped the scale at 225 pounds. Before college, she had kept her weight in check with cycling and aerobics, but a series of post-university sedentary jobs and unhealthy eating habits caught up quickly. Her wake-up call came in several forms: high blood pressure, concern over her ability to start a family, and the realization that she outweighed Evander Holyfield, the then-heavyweight champion of the world.
"I couldn't believe it," Bondy said. "At the time, my husband Alan had a sports round-up show and they announced that Holyfield weighed 215 pounds.
"I was heavier than the heavyweight boxing champion of the world."
That, Bondy says, was her "ah ha" moment.
Fast forward one year and Bondy had her weigh down to 130 pounds, thanks to running and healthy eating. She looked great and felt much healthier, but it wasn't long before a nagging feeling set in, pushing her to reach further within to find a fitness regimen that brought her spiritual benefits along with the physical perks.
Resurrecting a childhood introduction to yoga that she had shared with her mother, Bondy immersed herself in yoga and even began teaching a class out of her church's basement. In 2005, she opened Eastside Yoga Studio in Windsor, and worked hard to bring the rewards of Yoga to her growing number of students.
Five years later, she was still searching for new challenges; just within arm's reach of the state of complete well-being she has been seeking, Bondy decided to commit herself to Anusara Yoga, a form of Yoga founded in 1997 by Hatha Yoga guru John Friend that combines Shiva-Shakti Tantric philosophy (of internal goodness) with universal principles of alignment.
Earning her Anusara-inspired certification, Bondy says, was the missing link in her search for whole body and mind well being. Now she is focused on bringing the benefits of Anusara to her Eastside Yoga Studio.
"It's an incredible experience," Bondy says of teaching Anusara to her students, while several of her teachers are currently participating in a certification process.
"Anusara is a very spiritual form of yoga, more integrated," Bondy says. "You teach it from a place in your heart.
"I knew I had to keep looking until I found it."
Eastside Yoga Studio offers a wide range of yoga classes and styles, with more than 20 classes available per week, in a warm and inviting atmosphere that welcomes yoga students and nurtures learning. New students can try out gentle learning classes, including a prenatal class for mommies-to-be.
For more information on Anusara Yoga and other forms of yoga classes available at Eastside Yoga Studio in Windsor, visit our website at http://www.Eastside-yoga.com.
Contact:
Dianne Bondy
Dianne (at) eastside-yoga (dot) com
Eastside Yoga Windsor
(519) 478-0087
# # #