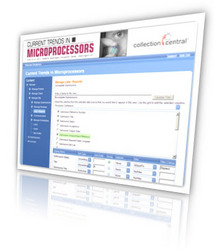 Many organizations try to manage the process with multiple vendors, causing wasted time and mistakes when the systems do not work together.
Madison, WI (PRWEB) November 21, 2010
Meeting organizers have long struggled to find efficient and affordable solutions to streamline the collection of abstracts, presentations and technical papers for educational events. With the introduction of Collection Central™, Omnipress, a company that specializes in the collection and distribution educational meeting content, has created an online system that provides the flexibility and functionality to meet almost any organization's needs and budget.
"Over the years, we've collected tens of thousands of educational documents for conferences, seminars and other events. We've seen meeting organizers juggle Excel spreadsheets, multiple vendors and unending email strings while trying to track down abstracts from their speakers," said Sean Lawler, Omnipress director of Online Services. "Collection Central™ is a single system that manages the entire process, from abstract collection to submission reviews to final draft collection for publication."
According to Omnipress CEO David McKnight, Collection Central™ was designed to address the main challenges that create hassles for meeting professionals (see the Top Five Challenges here). He said many organizations try to manage the process with multiple vendors, causing wasted time and mistakes when the systems do not work together. In addition, many systems are designed without the flexibility and reporting capabilities an organization needs to fit the system to their own processes.
"Collection Central™ solves those problems – period," McKnight said. "Organizers can log into one system with all the flexibility they need: custom reporting and forms, multiple options for different due dates and collection types, plus complete flexibility during the review process. And the interface is intuitive for the meeting professionals and the submitters and reviewers."
Lawler said organizations can use Collection Central™ to communicate more effectively before, during and after the collection process. "We've integrated the system to email and social media capabilities to help organizations promote their Call for Abstracts and Presentations, put out a Call for Reviewers, track correspondence and send follow-up emails. The system dashboards and reporting features make it easy to see what's been done and what's missing at every step of the process."
Collection Central™ also flows downstream into other Omnipress services, such as handout printing, abstract CDs, online programs and more. "Instead of having to go to one vendor to collect abstracts, then another system to collect bios and A/V needs, and yet another to produce content in print and digital formats for the live event, one company can pull it all together and simplify the meeting planners' task lists," McKnight said.
Omnipress offering no-obligation consultations and Collection Central™ demos to assess an organization's collection system. Meeting organizers can also download the Omnipress white paper "Nine Considerations for Choosing a System for the Collection and Management of Abstracts, Final Papers and Presentations."
About Omnipress
Omnipress provides a suite of services to the meetings and training industry including:

Online collection of abstract and presentation files
On-site event recording and live streaming
Meeting materials in print and on CDs and flash drives
Online knowledge centers and and e-commerce-based archives
Conference web sites and online event communities
Fulfillment and inventory solutions
More than 800 associations and meeting professionals trust Omnipress to provide sensible solutions and apply best practices to their unique conference needs each year. Omnipress is known for getting the job done right and on-time while making customers' jobs easier and their organizations look good.
For more information, visit http://www.omnipress.com.
# # #