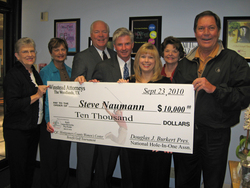 We selected the women's center as our partner charity and held a raffle along with the social
Richardson, TX (PRWEB) November 22, 2010
Houston-area attorney Steve Naumann recently won $10,000 by sinking a hole-in-one at an event hosted by Winstead PC at The Club at Carlton Woods in The Woodlands, Texas. Rather than keep the entire prize, however, Naumann immediately donated half to the Montgomery County Women's Center, the event's designated charity.
Winstead's office in The Woodlands, Texas (http://www.winstead.com) holds an annual client and family appreciation social. In 2009, the firm chose to give back to the community as part of the event. "We selected the women's center as our partner charity and held a raffle along with the social," recalls Managing Shareholder Jeff Harder. "We raised nearly $14,000."
"We have a 60-bed shelter here in Montgomery County that can hold 60 women and children," explains Sarah Raleigh, executive director of the center "Unfortunately, with the current economy, we never have an open bed."
In 2010, Harder sought to make Winstead's event more participatory. "I wanted to offer people something to do besides stand around, socialize and network," he explains. Given the venue, Harder decided to feature a Hole-In-One Million Dollar Challenge and other golf-related competitions as part of the appreciation event.
Harder talked to the pros at Carlton Woods and enlisted the help of Mancil Davis, known worldwide as "The King of Aces" for his PGA world record 51 holes in one. "We discussed including contests to build excitement and contribute to the event's success," Harder explains. "When Mancil told me what the premiums would be for the golf contests we wanted to include, it was a no-brainer."
Davis, who regularly works with organizations to incorporate prizes into golf events, says this event differed from past events he'd observed. "It was a bit unique in that it was not a structured golf tournament," he says. "Instead, they featured skill contests that were viewable from the veranda where the social was taking place." The insured contests included the Hole-in-One Million Dollar Challenge, with a qualifying round and a hole-in-one shoot out at the 18th green, plus a $5,000 putting competition.
"People paid to take three shots," explains Davis, director of golf operations for prize insurer National Hole-In-One Association (http://www.NationalHoleInOneInsurance.com), the organization that awarded the prize. "If they made a hole in one in that round, they won $10,000. The four golfers closest to hole then got to take a million dollar shot." Nobody hit the million, but Naumann earned the ten grand on his second drive.
Naumann accomplished the feat in dress shoes, using a borrowed club and wearing a slightly-too-big borrowed glove. "He used my seven iron and my old glove, which was a bit bigger than his hands," Harder recalls. "He took one swing, but it went slightly left. A few minutes later, when it was my turn again, I told Steve to go ahead, since he still had on my glove. He swung and popped it right in the hole. Maybe it was meant to be for me."
By integrating the insured golf competition into the social event, Winstead nearly tripled the amount of money it raised for the women's center. The money--including the $5,000 of winnings Naumann donated--will be put to good use. "We recently built transitional supportive housing designed for women as they come out of shelter with their children," Raleigh explains. "They can stay for up to 24 months as they transition off assistance programs, go back to school and move forward with a violence-free life."
Plans are already underway for 2011's event. "We want to make it even better next year," Harder explains. "Word will spread in the community about somebody getting a hole in one. That should help boost attendance. We'll probably tweak things a bit, just to keep it fresh, but we expect next year's event to be an even bigger success than this year's."
The National Hole-In-One Association is the world's premier and largest provider of hole-in-one insurance and prize insurance coverages for golf. Grand Prize Promotions,(http://www.GrandPrizePromotions.com) NHIOA's sister company covers other sporting events and contest insurance promotions. With offices in Dallas and London, these organizations have over 30 years of experience adding excitement and integrity to golf tournaments as well as a variety of other corporate, retail and charitable events. Since 1981, National Hole-In-One and combined with Grand Prize Promotions have paid in excess of $50,000,000 to their winners. We call that: "Experience that Pays!"
# # #