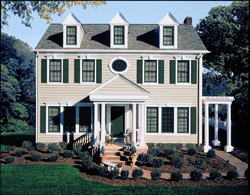 The Federal Energy Tax Credit available to consumers under the 2009 American Recovery and Reinvestment Act of 2009 definitely raised the awareness of energy efficiency options in windows during 2009 and 2010
Parkersburg, WV (Vocus) November 22, 2010
After two years of federal energy tax credits that provided incentives for homeowners to purchase energy-efficient upgrades, experts at Simonton Windows® believe there will be a shift in homeowner product needs in 2011.
"The Federal Energy Tax Credit available to consumers under the 2009 American Recovery and Reinvestment Act of 2009 definitely raised the awareness of energy efficiency options in windows during 2009 and 2010," says Sid Spear, vice president of sales and marketing for Simonton Windows. "This has been a positive educational experience for homeowners. With the expiration of the tax credit at the end of 2010, we believe homeowners will carry that knowledge with them for future window purchases. We also see a shift with homeowners requesting more aesthetic appeal in windows."
The Decorum™ by Simonton product line, featuring interior woodgrain, exterior color options and decorative hardware, meets the consumer demand for customization Spear sees elevating in 2011. "Sales of Decorum styling options on our product lines are already higher than anticipated, which indicates to us that consumers are eager to select aesthetic features to add to the overall interior and exterior beauty of their homes," says Spear.
"Homeowners appreciate the ability to customize the full look of their home, matching the interior of their windows with their laminate wood flooring, cabinets and other furnishings. Simonton's Decorum line gives consumers options for doing that with interior choices of authentic Antique Cherry, Maple and Contemporary Oak. They can also choose window hardware to complement other metal finishes in the home, such as cabinet handles and kitchen or bath faucets. Custom metal finish options within Decorum include Brushed Nickel, Oil-rubbed Bronze, Polished Brass, Dark Bronze, White, Driftwood and Tan. And, on the outside of the home, replacement window frame color options now include Brick, Chocolate, Bronze, Cream, Driftwood, Pine and Tan.
Closing Out 2010
At Simonton Windows, Spear and his team are seeing strong "pull ahead" orders during the fourth quarter of 2010. "We believe some people who were originally planning to purchase replacement windows during the first part of 2011 are ordering them now to take advantage of the final days of the federal tax credit," says Spear.
"Upon expiration of the tax credit, we believe consumers --- in particular, baby boomers --- will broaden their selection scope for windows in the year ahead to include more maintenance-free products with proven track records for strong performance and superior value. We feel very good about the long-term prospects for the windows market."
Helping Contractors Secure The Sale
Selling tools and programs to assist contractors and remodelers in closing more sales are a constant priority at Simonton. 2011 plans call for the introduction of various "business building" program modules as part of the educational offering through Simonton University. In addition, tools to help contractors close even more sales will be developed.
"While no company can compete with (or replace) a government incentive program like we saw during the past two years, we believe that Simonton's history of success and high-quality product offerings serve as their own incentive for future sales," says Spear. "When a contractor sits at a kitchen table to close the deal with a homeowner on a replacement window project, we're right there with them.
"We're with them through our 65-year company history of supplying top-quality products that bring value to the home. We're with them through our multiple J.D. Power and Associates high rankings that showcase our outstanding performance with consumers and contractors. And, we're with them by offering the best value proposition possible, so that both the homeowner and the contractor fully know that they're receiving maximum return on their investment."
Bright Future for Custom Vinyl Windows & Doors
Industry research indicates that vinyl windows continue to gain and take market share from wood and aluminum windows. The unprecedented aesthetic offerings on vinyl windows and doors, combined with increasing energy efficiency options, appeal to homeowners who view their products as an investment in their homes.
"One of our main goals is to continue to offer new products and popular styling features in our vinyl window lines," says Gary Pember, vice president of marketing for Simonton Windows. "By continually enhancing our windows and patio doors, Simonton provides homeowners with products that are a tremendous value, perform solidly, and offer a great upgrade solution for their lifestyle.
"Decorum by Simonton is a terrific example of how we can provide homeowners exactly what they want. People like the richness of wood, but not the inherent problems of wood relating to warping, rot, repainting or long-term maintenance issues. So, we created the Decorum line allowing homeowners to customize their homes with the authentic look of woodgrain interiors without the maintenance hassles. These windows are beautiful and also extremely energy-efficient. That's a win-win situation for everyone."
Simonton Windows produces ENERGY STAR® qualified replacement and new construction windows and doors, including a line of impact-resistant products. Simonton ranked "Highest in Builder and Remodeler Satisfaction among Residential Window and Patio Door Manufacturers" in the J.D. Power and Associates 2010, 2009, 2008 Builder and Remodeler Residential Window and Patio Door Satisfaction StudySM. The company also ranked "Highest in Customer Satisfaction among Residential Window and Patio Door Manufacturers" in the J.D. Power and Associates 2010 Windows and Patio Doors Satisfaction Study SM.
Simonton was also ranked #1 in quality in the 2009, 2007, 2002 and 1998 Brand Use Studies sponsored by Builder magazine and has won three Best In Class Awards currently administered by LBM Journal Research Institute.
Founded in 1946, Simonton's hallmark has been to deliver its made-to-order products in five days or less. Part of the home and security business of Fortune Brands, Inc. (NYSE: FO), Simonton delivers award-recognized products nationwide to key markets throughout the 48 continental United States. Simonton is a founding
PHOTOGRAPHY: Media members may visit "media.simonton.com" (use password "media") for access to hundreds of high resolution images.
ENERGY STAR is a government program that helps consumers protect the environment through superior energy efficiency and is a registered trademark of the U.S. Department of Energy and the U.S. Environmental Protection Agency.
###