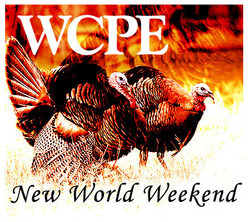 New World Weekend is a veritable smorgasbord
Wake Forest, NC (Vocus) November 19, 2010
WCPE's Assistant Music Director Kenneth Bradshaw announces a New World Weekend to celebrate the American holiday of Thanksgiving. The station will air Great Classical Music with American themes and by American composers.
"New World Weekend is a veritable smorgasbord," says Bradshaw. "You, the listener, act as programmer on All Request Friday."
"Join us Thanksgiving weekend," he continues. "Enjoy every tasty morsel"!
26 THU 11 a.m. Grofe: Grand Canyon Suite
2 p.m. Bernstein: "Make Our Garden Grow" from Candide
3 p.m. Dvorak: String Quartet no. 12 in F (American)
27 FRI 9 a.m.-10 p.m. ALL REQUEST FRIDAY;
10 p.m. Williams: "Hymn to the Fallen" from Saving Private Ryan
28 SAT 8 a.m. Ray: Selections from Homestead Dances
10 a.m. Carpenter: Adventures in a Perambulator
2 p.m. Barber: Adagio for Strings
4 p.m. Gershwin: Rhapsody in Blue
5 p.m. Still: Symphony no. 1 (Afro-American)
29 SUN 7 a.m. Gould: Amber Waves
12 p.m. Gershwin: An American in Paris
2 p.m. Dvorak: Symphony no. 9 in E Minor (From the New World)
4 p.m. Schumann: New England Triptych
5 p.m. Hanson: Symphony no. 2 (Romantic)
(All times ET.)
Throughout the weekend the music of American composer Aaron Copland will be featured. There will be performances of the following pieces by this Native Maestro; Prairie Journal, The Tender Land, Billy the Kid Ballet Suite and Appalachian Spring.
WCPE's 24/7 live broadcast of Great Classical Music can be accessed around the globe in several ways; on-line streaming in multiple formats, including IPv6, local cable television systems and traditional radio broadcasting. A complete list of the ways WCPE is available with instructions for cable and satellite reception can be found at: http://theclassicalstation.org/listen.shtml.
About WCPE:
With a 30 plus year history, WCPE is a non-commercial, 100 percent listener-supported, independent station dedicated to excellence in Great Classical Music broadcasting. Community-minded business underwriters and foundations are among the 150,000 listeners in the North Carolina broadcast area. General Manager Deborah S. Proctor's leadership has enabled the WCPE community to include national and worldwide listeners. Other radio stations and cable television systems can rebroadcast Great Classical Music. WCPE is one of the first public broadcasters to stream on the Internet. WCPE is heard worldwide on the Internet in multiple formats, including the next generation IPv6. Because WCPE receives no tax-derived support, the station conducts two on-air fundraising campaigns and two major mail-out campaigns per year to raise needed operating funds. Quarter Notes, the WCPE Program Guide, is published four times a year as a means to enhance appreciation and understanding of classical music. It is distributed to station supporters and is also available online at TheClassicalStation.org/guide. For more information, visit TheClassicalStation.Org or call 1-800-556-5178.
###