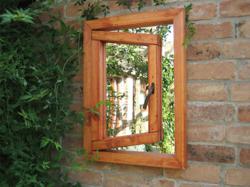 Blue Marbles Garden Mirrors come in many different styles to please nearly every taste
Mira Loma, CA (PRWEB) November 21, 2010
Everyone has a part of their yard that needs some help. It's either too dark, bare or just needs a little freshening up. Garden Mirrors are the ideal accessory to help you add spark to those otherwise dreary areas. The best part is; they're now available in the US market at prices even the most budget conscious will find appealing.
Blue Marble Designs makes it a snap to decorate your garden, patio or yard with a variety of mirror shapes and frame designs. Blue Marble garden mirrors come in many different styles to please nearly every taste. Most mirrors are designed to look like an open window but there are also gothic designs which can add drama to an outdoor area.
If you're worried about the weather's effect on your garden mirror – relax, Blue Marble Designs has that covered. Traditional mirrors are usually made of glass with a silver compound on the back. These don't hold up in rain, humidity or heat and can break easily. Blue Marble mirrors are made of a specialty mirrored acrylic and treated frames which make them essentially weatherproof. Just find a spot in your yard or garden to place one or two, sit back and enjoy the reflection of beauty and nature around you.
As appealing as garden mirrors are, they have been hard to come by in the United States market. Blue Marble Designs has reengineered the product to make it studier, but still elegant and offers it at an affordable price. To enquire more about our line of garden mirrors, please see http://www.bluemarbledesigns.com/products-garden-mirror.asp.
Blue Marble Designs, LLC is an innovative solutions-based company that designs and sells unique garden and home décor products to the retail trade. Leveraging our global sourcing and supply chain resources, we offer creative packaging and logistics solutions to a variety of lawn and garden retailers throughout the US. For additional information about Blue Marble, please visit us at http://www.bluemarbledesigns.com.
# # #