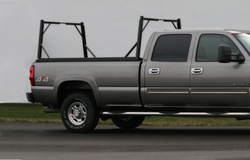 The response from the SEMA show has been overwhelming.
Sparta, NC (PRWEB) November 22, 2010
Invis-A-Rack, the leading innovator of collapsible truck cargo racks in the United States, announced that its flagship product has earned several prestigious industry awards at the 2010 Specialty Equipment Manufacturer Association (SEMA) show in Las Vegas.
The awards were for the company's newest truck product, the Invis-A-Rack collapsible truck cargo rack.
The first-of-its-kind, cargo bed-mounted device serves as a sturdy work or leisure truck rack, yet can be quickly and easily collapsed when not in use to maintain the truck's original showroom look. The innovative cargo rack earned three honors at the show, including the prestigious 2010 SEMA Global Media Award for Best New Product. Winning products were selected by an international panel of media judges and were based on the overall level of consumer appeal.
In addition to this honor, Invis-A-Rack received the PM Editors Choice Award from Popular Mechanics Magazine for outstanding achievement in new product innovation and design, and was included in the magazine's "Must Have" section of products from the SEMA show. The company's product also earned an award from the Light Truck Accessory Alliance (LTAA) for Best New Product Over $500.
"The response from the SEMA show has been overwhelming" said Donny McCall, inventor and CEO of Invis-A-Rack, LLC. "We have been approached by major national and regional retailers from around the country, who are excited about the product and its functionality".
McCall said that in addition to a major expansion of the product's distribution, the company plans on introducing several new accessories to its product lineup in 2011. "We plan to release a drive-down-the-road soft camper shell that will use the Invis-A-Rack as its structure. It will be ideal for those looking to cover their cargo while driving, and can also serve as a perfect tent for truck owners that go hunting or camping," he said.
About Invis-A-Rack LLC
Based in Sparta, North Carolina, Invis-A-Rack LLC introduced an exciting new approach to traditional cargo management systems for almost all pickup trucks. Its innovative, patented-design collapsible truck cargo racks provide the flexibility of universal carrying and transportation, without the unsightly appearance and bulkiness of a traditional ladder rack or cargo management system.
The Invis-A-Rack, which is proudly manufactured in the USA, is designed to carry up to 500 pounds. Its versatility allows for quick transformation (under 60 seconds) for transporting ladders, plywood, piping and other construction materials, as well as recreational applications such as carrying bicycles, canoes, kayaks and other camping equipment.
Contact: Invis-A-Rack, LLC, Michael Hettleman, PO Box 1927, Sparta, NC 28675,
(336) 572-2575; http://www.invisarack.com
###