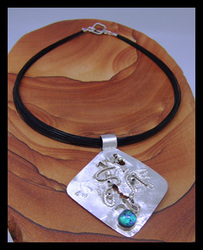 "Alene's jewelry is amazing. She uses quality materials and each piece is a labor of love. She creates an ever changing line of jewelry that keeps getting more interesting, more beautiful and more unique." state Janna Mundis.
Chandler, AZ (PRWEB) November 22, 2010
The 'Create Your Reality' Collection is a culmination of several factors including client feedback, the artist's strong beliefs in an individual's ability to create our own reality and the love of working with sterling silver and pure copper metals.
When heated to extreme temperatures the metal components melt together- each at a different rate depending upon the thickness, size and gauge of the pieces. The design is first created according to Alene's vision for the assembled metal. Then the metals make up their OWN mind for the final formation! The final work involves refining the metal, adding gemstones or patinas as appropriate and creating the finished piece that will be presented to the buyer.
In addition to this new collection, Alene's Adornments offers designer copper cuff bracelets, sterling silver rings, gemstone slab necklaces and 'Make A Difference' starfish designs. More information is available at http://www.alenesadornments.com or http://www.alenes-adornments-blog.com.
# # #