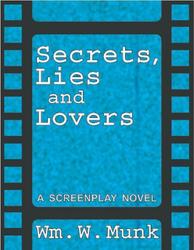 Dallas, TX (PRWEB) November 21, 2010
In "Secrets, Lies and Lovers," by Wm. W. Munk, the words on the digital screen provoke the reader to visualize the presentation, as if on a theater's movie screen. It compels the reader to 'hear' the dialogue as if spoken by an actor. This technique points the way for future script appraisal. Better yet, the method allows producers to consider promising but unagented submissions anytime, without assuming obligations.
The current story, with its opportunities to expand on the writer's suggestions, is designed for film industry producers. "Secrets, Lies and Lovers" is told by Lander Stone, an outcast whistle blower and failed mystery novelist. Alone and without hope, he lives in a rattletrap RV. To free himself from suspicion of murder, he must discover why three eccentric women have relocated to a desolate hamlet in the Texas Panhandle. By way of a shocking memoir (a movie within the movie) Stone uncovers the women's sordid history, which converges with his own troubled past. Ultimately, "Secrets, Lies and Lovers" is about lost hope regained and final redemption.
The screenplay e-novel is especially effective in presenting this first-person mystery to the film industry. "The format deconstructs the narrative into two major elements," author Munk explained. "First, the reader 'sees' the setting and can visualize the physical action. That's the screenplay element. Then comes the dialogue / interior voice. That's the novel element."
Here's the payoff: this technique keeps the reader pressing the Next Page button. At the end, film professionals will look forward to the next screenplay e-novel. "It's coming out within six months," Munk said. "The title is "Drake and the Woman." It too will deliver the visceral punch of a movie. Fast paced stories are perfect for e-books."
And, e-books are perfect for the screenplay e-novel. Now, all you need is the soundtrack.
"Secrets, Lies and Lovers" is available on the Amazon and Barnes & Noble websites.
###