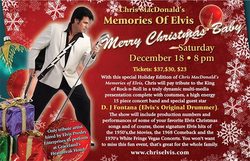 Only Tribute Artist to be Hired by Elvis Presley Enterprises to perform at Graceland's Heartbreak Hotel.
Fort Pierce, FL (PRWEB) November 29, 2010
With this special Holiday Edition of Chris MacDonald's Memories of Elvis in Concert, Chris will pay tribute to the King of Rock-n-Roll in a truly dynamic multi-media presentation complete with costumes, a high energy 15 piece concert band and special guest star D. J. Fontana (Elvis's Original Drummer).The show will include production numbers and performances of some of your favorite Elvis Christmas songs and of course, those signature Elvis hits of the 1950's, The Movies, The 1968 Comeback and the 1970's White Fringe Vegas Concerts. You won't want to miss this fun event, that's great for the whole family. Come share the Memories of Elvis in Concert "Merry Christmas Baby".
Thirty-three years ago, we lost one of the greatest entertainers and pop culture icons of our time. Are you still lonesome for the energy, charisma and incredible voice of the king of rock-n-roll? Come join us for a special tribute celebrating the life and music of Elvis Presley when Chris MacDonald presents Memories of Elvis in Concert.
Chris has performed his tribute throughout the country, including venues in Vegas, Branson, New York and with the famous Legends in Concert stage productions. Chris has also appeared with Elvis' own original back up group the Jordanaires for a special concert event at the 5000 seat Hard Rock Live Venue at the Seminole Hard Rock Hotel and Casino. Adding to the authenticity of his tribute, this experienced and energetic entertainer has the honor of being the only tribute artist contracted by Elvis Presley Enterprises to perform at Graceland's Heartbreak Hotel.
With this newly updated version of his popular tribute, Chris has created a multi-media experience. Video clips of Elvis's career and close-ups of all the live action on stage will be projected on a large screen above the stage, bringing everyone even closer to the "Memories of Elvis."
Performing with Chris and his production band will be a very special guest star, D.J. Fontana, Elvis's original drummer. D.J. was recently inducted into the Rock-N-Roll Hall of Fame as "The Beat Behind the King." D.J.'s solid beat and signature drum fills can be heard on Jailhouse Rock, Hound Dog, Don't Be Cruel, Heartbreak Hotel and many other legendary hits of Elvis Presley. He was also "The Beat Behind The King" on all of those early Legendary Television performances including The Ed Sullivan Show, The Milton Burle show and the Steve Allen Show.
D.J. will be performing live on stage with Chris MacDonald for a special portion of the show that pays tribute to the early years of the King of Rock-N-Roll.
For tickets call the Box Office : 772-461-4775 or online at http://www.sunrisetheatre.com
# # #