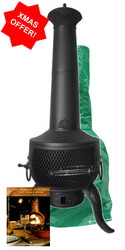 Our chiminea gift sets make it far easier for customers to choose a chiminea gift for their friends and family this Christmas.
(PRWeb UK) November 29, 2010
Chimineas are the hottest thing to hit Britain's gardens and extend living spaces, particularly in the cooler months, and are an eco-friendly and fun way of heating your garden or patio, regardless of season. This Christmas, Chimineashop.co.uk are offering some fantastic gift bundles – particularly the Toledo large and any Mexican clay chiminea with cover and cookbook for an ultra low price.
What's a Chiminea?
Chimineas are a family-friendly way of heating patios and gardens and many cast iron or steel chimineas come with integral BBQ grills and swing doors for barbecue style cooking as well!
Cast iron and steel models are extremely popular, combining durability, practicality, and style – which make them great for outdoor parties. Many of our cast iron chimineas are inspired by the designs of wood-burning stoves, and, for the more traditional look, a clay chiminea evokes the chiminea's exotic Mexican and South American origins.
ChimineaShop.co.uk stocks a wide range of suitable products this Christmas, with sizes and styles to suit any budget.

Cast iron chimineas are typically heavy, more resistant to wear and tear and radiate a lot of heat. These types of chiminea have become more popular in cooler climates where they are appreciated for their warming properties.
Steel chimineas are far lighter than cast iron and do not require as much maintenance. Steel is a popular choice if you would like to move your chiminea around while maintaining most of the heat radiation properties of cast iron.
Clay chimineas should only be used for burning relatively low-temperature fuels, such as wood, paper and card. They still give off a lot of heat and make good patio-heaters.
Chimineas and fire bowls are an eco-friendly alternative to patio heaters and cast-iron and steel chimineas absorb so much heat that they will warm a patio for hours without requiring a blazing fire.
You can burn aromatic apple, cedar or pine wood, or Ocote, also known as Montezuma pine, which has a sweet smell and is sustainably harvested from the slopes of Mexico and Central America. Or you can use your chiminea for disposing of household waste, such as cardboard, junk mail and papers.
New for Christmas 2010! Our Top Chiminea Gift Bundles:
Cozumel BBQ Clay Chiminea gift set (£95) – a fantastic price for this medium-sized clay chiminea. This chiminea is available in a range of different designs and colours. A book and DVD about cooking with your chiminea and an all-weather, tear-resistant cover is included in the price.
The Toledo large cast iron chiminea gift set (£140) – a large cast iron chiminea in a range of finishes and designs, a book and DVD about cooking with your chiminea and an all-weather, tear-resistant cover is included. The Toledo is a fantastic cooking chiminea, coming with a swing-out grill and hinged door, and will also make a great patio heater.
Any traditional large Mexican clay chiminea gift set (£104.67) will come with a 4 litre bag of pumice stones (used for lining the base of clay chimineas) and an all-weather, tear-resistant cover for the Christmas period only.
The Calenta Fire Bowl (a Chimineashop.co.uk favourite, now for only £115.87) comes with a free mini chiminea candle-holder, complete with a vanilla-scented candle (normally £18.99).
Our Corona medium BBQ chiminea is an unusual and modern design with a copper patina and comes this Christmas bundled with a cookbook and DVD and a free all-weather, tear-resistant cover (£190, normally £293.97).
Considering the lifespan of a cast-iron or steel chiminea, the durability and the quality of the materials used, prices rival even budget patio heaters.
You can find more information, pictures and specifications online at: chimineashop.co.uk
###