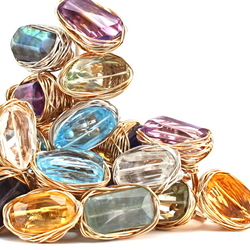 "I'm thrilled to be moving my jewelry studio into a retail environment surrounded by brands I truly admire. I think our customers will appreciate seeing how our jewelry is made, and we are ready for our close-up!"
Nashville, TN (PRWEB) November 23, 2010
Judith Bright's signature design style features bold, clean lines and is elegant in its simplicity.
Her lines, SILVER+ROCKS and GOLD+ROCKS, are fashioned from sterling silver and gold-filled chains and elements that link semi-precious stones in various combinations. Her ROCKLESS line, using only silver and gold metals features hand-hammered & hand-wrapped chain and wire elements. New lines include JB Girl for ages 8-18, JB Men, I+DO for the bride and her bridal party and JB Zen featuring authentic sandalwood beads from Nepal combined with semi-precious gemstones.
Judith Bright's jewels have appeared in numerous magazines, tv shows and films. Actresses who have worn JB in their tv and film rolls include Jennifer Lopez, Catherine Zeta-Jones, Frances McDormand, Christina Applegate, Blake Lively, Carla Gugino, Portia De Rossi and Julia Louis-Dreyfus. She is currently styling jewelry for a feature film, slated for a 2011 release.
Judith Bright began her formal jewelry design career six years ago, after a successful and treasured career as President of Quincy Jones Music Publishing in Hollywood, Cal. She studied at the prestigious Le Arti Orafe School of Jewelry in Florence, Italy, learning, among other skills, silversmithing and wax carving. In 2004, she and her family settled in Nashville, Tenn. Judith's passion is to create quality jewelry for every woman at an affordable price that makes them feel and look good.
###