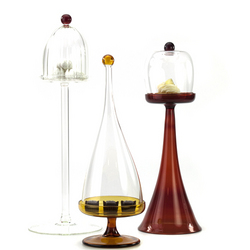 Los Angeles, CA (PRWEB) November 22, 2010
Fitzsu is launching the new works by Secondome, a Rome based design company and gallery producing hand-made works from acclaimed designers. This collection completely made of the heat-resistant material, borosilicate or better known Pyrex, is sturdier than glass and presents an interesting material in which to stretch to seemingly delicate limits.
Some pieces, like the Cupcake series of candy dishes on colorful pedestals are limited to small quantities of 90 and others are produced to order like the large snail candy dish that begs to be filled with holiday cookies. The Dinner Time chicken dome is a poultry-shaped glass dome to cover a whole chicken or sliced turkey dinner. The Sede decanters are voluptuous gourds of glass for wine or water.
The Sprinkle cake platter with colorful glass speckles adds festivity. A bird decanter with one leg offers a bit of humor to the table and the over-sized cheese domes are dramatic at the least.
All these products are available on the website, http://www.fitzsu.com and brick and mortar store at 7970 Melrose Ave. in Los Angeles.
Secondome is actively involved in exhibitions and events. A new product launch is really an opening of a new exhibition for which the products are made and then continued to be made. Fitzsu's collaboration with Secondome brings to the USA a shared aspiration to exhibit thoughtful, well-crafted and high-quality objects to the consumer.
For additional information on fitzsu and the Secondome items for sale in the store, please contact Su Sazama.
About Fitzsu:
Fitzsu is a unique gift store, run by owners Su Sazama and Fitz, offering modern home accessories and wedding registries to the design community. Fitzsu's website and brick and mortar store also host events throughout the year to bring excitement to the objects they sell and to demonstrate their thoughtful design and functionality.
###