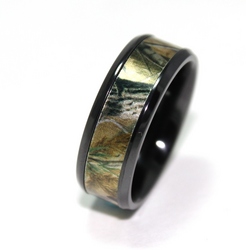 We wanted these rings to fit right in with what people are wearing and doing outdoors
Linden, MI (PRWEB) November 23, 2010
Titanium-Buzz.com, a leading designer and retailer of titanium rings, announced it is adding a new series of exclusive camo rings to its existing collection. The current line of titanium rings, which showcases inlays of RealTree and Mossy Oak brand camouflage, is being expanded to include the Mossy Oak Infinity Break-Up pattern, camo wedding rings for women, and a new Black Zirconium Camo Ring.
"Our goal back in 2008 was to create a line of rings that would appeal to outdoorsmen," said Kevin Begola, founder of Titanium-Buzz and the chief architect behind the camo rings. "The popularity of those first designs inspired us to expand on that concept. This is about pushing the envelope of what alternative jewelry can be."
Among the most anticipated additions to Begola's collection is a titanium ring that will feature a Mossy Oak Infinity Break-Up camouflage inlay. The pattern blends nature photography with layers of computer imaging and is the most sophisticated camouflage ever produced. The ring, which Begola designed in coordination with Mossy Oak, is a Titanium-Buzz exclusive and will be available in early December.
"Our camo rings are built to handle all the punishment nature can throw at them," Begola said, "but that alone wasn't enough. We wanted these rings to fit right in with what people are wearing and doing outdoors. That's why instead of a generic camo pattern we partnered with leaders like Mossy Oak and RealTree."
Begola also recently unveiled a Women's Camo Ring that is similar to his bestselling camouflage wedding rings but is designed to more comfortably fit the female finger. Available now on Titanium-Buzz, the ring features the same titanium construction as the men's version and can be purchased with RealTree or Mossy Oak camouflage inlays.
"Some people look at sports like hunting and think it's just a men's thing," Begola said. "That's not the case. There are female hunters and women who appreciate the outdoors as much as anyone; we are excited to be one of the first jewelers to offer a ring that speaks to their way of life."
The new Black Zirconium Camo Ring, meanwhile, is similar in style to Begola's existing camo rings but is crafted from specially forged zirconium rather than titanium. The result, Begola said, is an ultra-scratch resistant surface that has a unique coloration not found on other rings.
"Zirconium is similar to titanium in a lot of ways," Begola said, "but when heated it forms a black coating that is virtually indestructible. The darker coloring of the metal looks great against the camouflage of the inlay, and it's unique in a way will appeal to a lot of people."
Other styles added to Titanium-Buzz over the past year include a Two Step Camo Ring, which features double grooved step-down titanium edging, and the Double Barrel Camo Ring, a wide ring boasting two parallel camouflage inlays. Although both designs take cues from current men's fashion, the rings have a distinct country flavor that has resonated with serious sportsmen.
Titanium-Buzz has also begun offering an exclusive series of titanium rings that feature laser-engraved and carved imprints of the Mossy Oak or RealTree brand logos.
Begola said that while he is excited about the new styles, he intends to remain a leader in camo rings and that he is already working on new designs for 2011.
"Every day we take a look at our rings and ask ourselves what other directions we can try," Begola said. "What would put a cool twist on this style? It's a continuous process of creative experimentation, and it recognizes that there's a fashion for every lifestyle."
About Titanium-Buzz:
Founded in 2005 by ring designer Kevin Begola, Titanium-buzz.com is an ecommerce specialist of titanium, alternative metal, and non-traditional rings and jewelry. Titanium-Buzz prides itself on cost-effective pieces that are handmade by skilled artisans -- every ring they produce is custom made for each customer.
Contact:
Kevin Begola, Owner
Titanium-Buzz
1.866.215.1861
kcb(at)titanium-buzz(dot)com
###